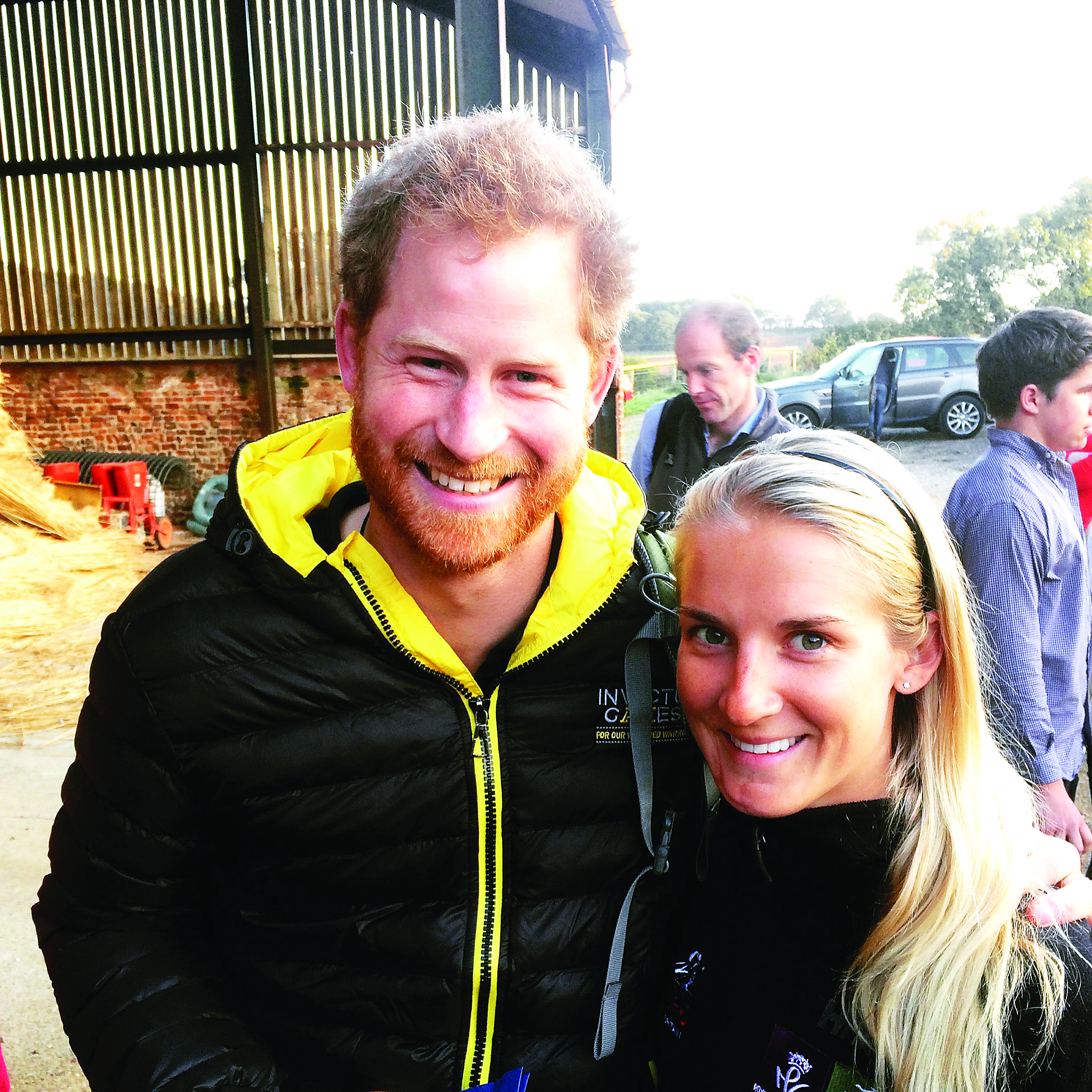 Next Wednesday, Americans will commemorate the service and sacrifices of the Republic's veterans. For one remarkable local Marine, that single Veterans Day seems not enough.
Kirstie Ennis is a Milton High School graduate, retired Marine sergeant, and wounded combat veteran. This summer she postponed the amputation of her leg, donned a brace, and completed a grueling 1,000 mile journey across England with the charity Walking with the Wounded. Ennis, a fellow Marine, and four British servicemembers were joined on the walk by Prince Harry, himself an Afghanistan veteran.
Each step that took Ennis from the highest peaks of Scotland to London was a tribute to her endurance. In 2012, a helicopter crash in Afghanistan left Ennis facing dozens of surgeries and an arduous recovery. Undaunted, Ennis was attracted to both the challenge of this year's walk and its significance. "It was important to me to go over there and see what the UK was doing to help their guys with military mental health," Ennis said. "We fight alongside each other, we work hand in hand, and we should be able to heal and recover together."
During the grueling trek, Ennis placed 25 dog tags and poems along the way, each dedicated to one of her fallen comrades. "My brothers gave their lives for strangers," she said. "So now strangers all around the world will be able to find a piece of them, and honor and love them."
Prince Harry was a treasured supporter of Ennis' commemorations. Ennis had previously met him in 2013; this year he helped Ennis place one of the dog tags in a private moment. "It was very significant and special," Ennis said. "He's truly genuine and caring. He simply wanted to walk with soldiers who were wounded in combat."
Ennis was only 17 when she enlisted. "All I wanted to do was be in the Marine Corps for twenty years," Ennis said. "When that was taken away from me, it really crushed me. But now, I still want to be involved with and engaged in my military family, and support my military brothers and sisters in some way." Walking with the Wounded afforded Ennis this opportunity. "The walk helps get servicemembers back into employment," she said. "It also helps prevent homelessness, and keep veterans out of the criminal justice system." Of her own contributions, Ennis said: "If sharing my story helps raise awareness of the issues that face our veterans today, then I'm happy to do it."
Ennis' spirit and dedication to her fellow servicemembers led to this calling. "Even after we get out of the military," she said, "we still have duties to the men and women who served alongside us. We have to protect our own." She added: "The worst thing we can do in this lifetime is to not honor the legacy, or share the memory, of those who were lost to combat."
The Marine Corps motto is Semper Fidelis, a Latin phrase meaning "Always Faithful." Next Wednesday, Americans will pay their respects to servicemen and women around the country on Veterans Day. Some might find great inspiration in retired Marine Sergeant Ennis, as they seek to fulfill that timeless mandate to serve the men and women who, throughout the centuries, have selflessly and bravely served in their defense.