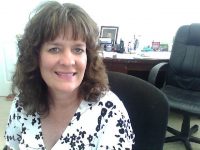 Tammy Jo Brown, one of three challengers for the Santa Rosa County Commission District 2 election, is currently leading the campaign money race with $3,650, according to the latest reports submitted to Santa Rosa County Supervisor of Elections Tappie Villane.
Incumbent Bob Cole, who has served as the District 2 Commissioner since 2002, has raised $1,500 since pre-filing for re-election December 13. He's facing two fellow Republicans, Brown and East Milton resident Wallis Mahute.
Mahute unsuccessfully opposed Cole during the 2014 election. So far she has raised $692.
The winner of the August 28 Republican primary will face NPA candidate Kris Long in the November 6 general election.
Long has raised $1,725 and has not made any self loans to his campaign.
Following is a detailed, chronological list of supporters who have contributed to each candidate, excluding miscellaneous revenue, such as bank account interest:
TAMMY JO BROWN (pre-filed 11/08/2016)
$100 Self loan(s) to campaign
$250 Brown's Hauling (Joe Brown)
$1,000 Joe Brown
$750 Brown's Hauling (Joe Brown)
$250 Linda Grayson
$25 Lesley Blackner
$1,000 Three Trade Consultant (Sharen & David Phillips)
BOB COLE (pre-filed 12/13/2017)
$500 Self loan(s) to campaign
$1,000 Tamara Fountain
KRIS LONG (pre-filed 11/20/2017)
| | |
| --- | --- |
| $50 | Lawrence Long |
| $50 | Katura Williams |
| $25 | Nicole Levins |
| $20 | Lakesha Brown |
| $20 | Candice Richard |
| $20 | Ceasar Rowser |
| $20 | Ceasar Rowser |
| $20 | Kelly Gillis |
| $25 | Jerry Long |
| $20 | Janice Welch |
| $500 | Candice Thomas |
| $10 | Brandy Edwards |
| $25 | Artie Long |
| $20 | Lakesha Brown |
| $500 | Tony Henderson |
$ 200 Lester Jones
$50 Alan Sapp
$100 Murray Hamilton
$50 Charles Forrest
WALLIS MAHUTE (pre-filed 7/06/2016)
$242 Self loan(s) to campaign
$200 HTM Solutions (Howard Mahute)
| | |
| --- | --- |
| $50 | Carolyn Kolb |
| $25 | Michelle Parker |
| $50 | Hollis Kimbrel |
| $25 | John Kimbrel |
| $100 | Gary Nelms |