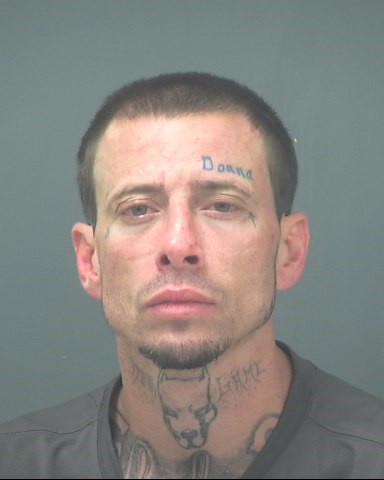 Two Navarre men are behind bars at Santa Rosa County Jail after a man caught the two suspects burglarizing his RV on Augustus Road in Navarre early this morning.
Those suspects were later identified as Matthew Crawford Lynch, 30, and Walter William Blakeman, 36. Both men have prior arrests in Santa Rosa County.
According to the Santa Rosa County Sheriff's Office arrest report, at approximately 9:40 a.m. this morning, deputies were notified of a burglary in progress at the 2800 block of August Road. A resident called 9-1-1 advising dispatch that he went to enter his RV that morning and he heard people inside. The caller advised that when he opened the door to the RV, he came face to face with Lynch who had the victim's guitar case on his back. The caller stated that Lynch later dropped the guitar case and fled from the RV.
When deputies were making their way to the scene of the crime, both men had already fled the scene in a vehicle. Deputies were able to locate the suspects driving on East Bay Boulevard and the two suspects immediately bailed out of the vehicle when deputies approached them in their patrol cars.
Lynch was immediately taken into custody, but Blakeman was able to get away fleeing into a nearby wooded area. A perimeter was immediately set up to contain Blakeman and a SRCSO K-9 was deployed to track and locate the suspect. After a brief search, the K-9 located Blakeman who refused multiple verbal commands to surrender to authorities. The refusal to listen to police commands forced the K-9 to take apprehension measures and the K-9 bit the suspect. Following that, Blakeman was taken into custody and later treated at an area hospital for his injuries from the dog bite and due to the fact that he was complaining of chest pains.
According to the arrest report, the suspects had pried the door open to the RV and had a backpack, which they left behind when they fled the RV, that had over $4,000 worth of items from the RV in it including a laptop computer.
Lynch was later booked into Santa Rosa County Jail and was charged with Burglary of an Unoccupied Dwelling, two counts of Grand Theft and Property Damage. He was also hit with a Drug Equipment Possession charge after law enforcement located a glass pipe on him often used to smoke narcotics. He remains behind bars with a $22,250.00 bond.
Blakeman has yet to be booked into Santa Rosa County Jail, but is expected to have similar charges.