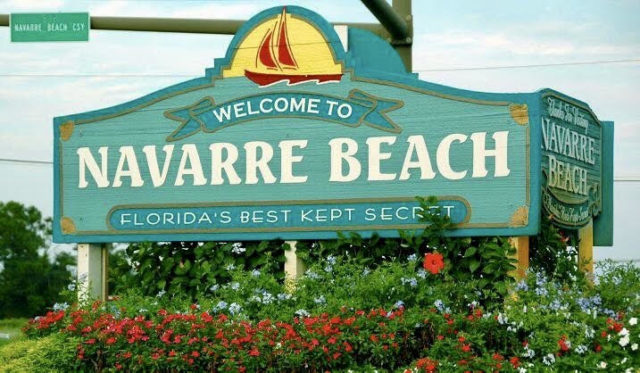 File photo depicts the former welcome sign at Navarre Beach Bridge. Many Navarre residents expressed anger when the iconic sign and traditional branding as "Florida's Best Kept Secret" was replaced by Santa Rosa County.
A group of Navarre businessmen have formed a political action committee aimed to revive the effort to incorporate Navarre, and a nonbinding referendum is tentatively planned to coincide with the 2020 Presidential primary election.
Navarre Area United was formed December 11, according paperwork filed with the Florida Division of Elections. The PAC stated reforming county government, including property and zoning standards, and the incorporation of Navarre as issues it will be supporting. The PAC is opposed to fee simple legislation as currently written.
PAC regents include Robert Reyes, owner of Stripes Pub & Grill; Bart Pullum, broker of Pullum Real Estate and Andrew DeMartin, director of operations for Broussard's Bay Grill.
Jonathan Cole, a partner in Growing Santa Rosa Enterprises, LLC, is serving as PAC chairman and national radio host Frank Salvato is assistant chairman.
Cole said currently Navarre's population of more than 40,000 has only one commissioner representing the area. "That's the whole point, we get one vote out of five. That's why we haven't gotten our share of the tax revenues generated in the south end. The county will still get its tax revenue, but we would have more control over decisions and improvements."
Salvato says incorporation could not only yield "much more power" to Navarre Area residents but also provide unity to help heal the current divide. "If we become a cohesive unit, we transcend the political factions that want to push back for control," he said.
Back in 2014, an attempt by the Citizens to Incorporate Navarre Now PAC failed when more than half of the voters in precincts which would have been part of the proposed municipality rejected it.
"There was a lot of misinformation floated around then," said Cole, pointing out the new PAC has different members. "We wanted a fresh start and to make sure the community is made aware of all the pros and cons."
Cole said the new team is "very committed" to Navarre and its future.
"It's time to address incorporation again, and we're going do is another study and find out what is best for the people. This time we'll have a couple of sample city charters people can see," Cole said, pointing out the group plans to host town hall events to answer questions and share information. He also said the PAC will wait to see the results of the study before deciding whether or not to include specific areas such as Navarre Beach.
Salvato said the new team is focused on making the effort as transparent as possible. "There's an education process with this to dispel fears and clarify particulars moving forward," he said.
Cole believes there is enough time ahead of the 2020 election to conduct the feasibility study and engage the community in developing a related proposal.
The matter is expected to be discussed as an agenda item during the Northwest Florida Delegation's public hearing scheduled 5:30 – 7 p.m., Wednesday, December 19 at the Santa Rosa County Administrative Complex, located at 6495 Caroline Street in Milton.