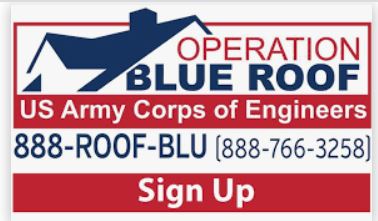 Operation Blue Roof services are not yet authorized in our area for Hurricane Sally. Presently only Hurricane Laura victims can utilize the free service, which provides temporary roof covering following a disaster.
"Currently there is not an authorized roofing mission in response to Hurricane Sally," stated the U.S. Army Corps of Engineers, which suggests monitoring local media for information on resources and announcements when services can be provided.
If and when work related to Hurricane Sally is authorized, victims must complete a Right of Entry document, which allows Corps workers to access property and assess damage to homes. The ROE also allows contracted crews to work on your roof.
Operation Blue Roof is a priority mission managed by the U.S. Army Corps of Engineers for the Federal Emergency Management Agency. The purpose of Operation Blue Roof is to provide homeowners and permanently occupied rental properties in disaster areas with fiber-reinforced sheeting to cover their damaged roofs until arrangements can be made for permanent repairs. This is a free service to homeowners. Operation Blue Roof protects property, reduces temporary housing costs, and allows residents to remain in their homes while recovering from the storm.
Local contractor Steve Cheney has weathered many hurricanes in our area and says Operation Blue Roof eventually comes in to help homeowners. In the meantime, his company is placing tarps on roofs and providing assessments and estimates.
"After a storm like this there's a lot of people who get a roof leak and think they need repair when they actually need a replacement, so it's important to get inspected by a quaaified roofing contractor. Also, a lot of people have minimal damage, find a shingle and think they need a new roof, but that's not necessary."
Cheney recommends assessment by a certified local roofing contractor.
For more information on Operation Blue Roof visit: https://www.usace.army.mil/missions/emergency-operations/national-response-framework/temporary-roofing/
To contact SEC Roofing call 850-936-7550.