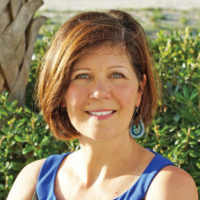 The books will close July 30 for voters to register ahead of the August 28 primary election in Santa Rosa County, and candidates are starting to pre-file for local races.
According to Santa Rosa County Supervisor of Elections Tappie Villane, local school board races are non-partisan and require a 50 percent plus one vote margin for a winner to be declared in the primary race.
If a candidate doesn't surpass that required margin, the top two candidates in the race will face off again in the November 8 general election.
So far school board incumbents Carol Boston and Scott Peden have signed up, seeking re-election to their respective District 3 (Navarre) and District 5 (Gulf Breeze) seats.
Boston has loaned her campaign $5,000, and Peden so far has contributed $100 to his campaign.
Liz Horton, who has served as Chairwoman of the Santa Rosa County Tourist Development Council, told South Santa Rosa News she intends to pre-file for the District 5 school board seat early next week.
As for county commission races, Villane said one could be decided in the primary election if no other candidates from other political parties pre-file to run.
Also, Villane pointed out that county commission races do not have a 50 percent plus one vote winning margin requirement.
Santa Rosa County Commissioner District 4 Incumbent Rob Williamson's sole challenger at this point is fellow Republican David Peich. The two will face off in the primary August 28 when a winner will be decided If no candidates from other parties join the race.
Williamson currently holds a staggering lead in the money race. His campaign fundraising total is $66,409.01 compared to Piech's $2,700. However, Piech didn't enter the race until November 8.
But the crowded District 2 County Commission race will not be decided until the November 8 general election — because not all candidates are of the same political party.
Presently newcomer Tammy Jo Brown of East Milton leads in campaign fundraising with $2,650. Fellow Republican Wallis Mahute follows with $592. They will face Incumbent Republican Bob Cole, and any other Republicans who pre-file for that seat, in the primary race.
Cole hasn't yet submitted a campaign fundraising report since he only pre-filed December 13.
The winner of that District 2 primary will face NPA Candidate Kris Long, who has loaned his campaign $100. Other candidates could also still enter that race.
Santa Rosa County currently has 127,159 voters who can cast votes in each of the aforementioned races.
Presently the county has 74,682 Republican, 24,840 Democrat and 27,637 voters from other parties registered.
For more information, contact the Santa Rosa County Supervisor of Elections office at 850-983-1900 or visit www.votesantarosa.com.