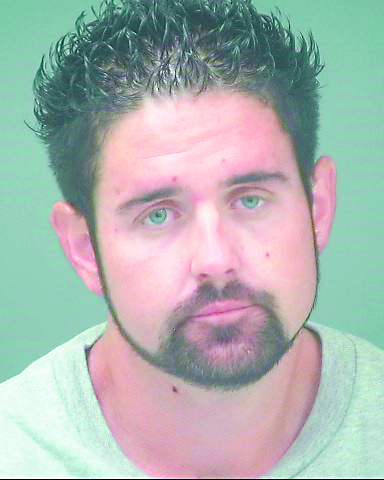 A man believed to have been behind a string of burglaries in the bi-county area is off the streets thanks to a citizen who witnessed the man attempting to break into a vehicle on Navarre Beach on Monday, which prompted law enforcement to respond.
The suspect, Jeremy Laroy Woolard had approximately 8 warrants out on him, 7 of which were out of Santa Rosa County for burglary and theft. One of the warrants was placed on Woolard after it was believed he had broken into New Providence Missionary Baptist Church in Milton.
The witness called dispatch at around 6:30 a.m. Monday after they noticed the 28-year-old Pace man attempting to break into a vehicle on Navarre Beach. The witness told deputies that they saw Woolard taking items out of vehicles and putting them in his pocket, according to the arrest report.
Deputies arrived shortly after receiving the notice from dispatch and located Woolard, who quickly fled the area. After a brief foot chase, deputies caught up with the suspect as he was attempting to break into a condominium unit on the beach. Deputies had to tase the suspect to bring him into custody, the report stated.
After being apprehended, the suspect attempted to use a fictitious name and had since changed his appearance since the department last encountered him, according to a release from the SRSO.
Property and valuables were confiscated from Woolard at the scene that were believed to have belonged to other people.
When questioned about the incident later on at the District 2 SRSO substation, Woolard admitted to deputies that he had a bad drug problem and had just obtained $350 worth of drugs, which included crystal meth and Dilaudid pills, according to the arrest report.
The suspect said he had intentions of selling the drugs to make money, but instead decided to break into cars to steal items. He said he intended to turn around and sell the items to get money to pay for the drugs.
Woolard later agreed to take deputies to the locations on the beach that he said he targeted and stole items from.
After questioning, Woolard was placed under arrest and booked into Santa Rosa County Jail.
For the crimes he committed on Monday, Woolard was slapped with four counts of burglary, four counts of petty theft, (2nd degree, 3rd subsequent offense), one count of false impersonation, one count of drug possession and one count of drug equipment possession. Woolard was also hit with nearly 20 more charges that were brought on from the previous warrants he had placed against him. He was put behind bars at noon Monday without bond. A hold was put on Woolard via the Escambia County Sheriff's Office.