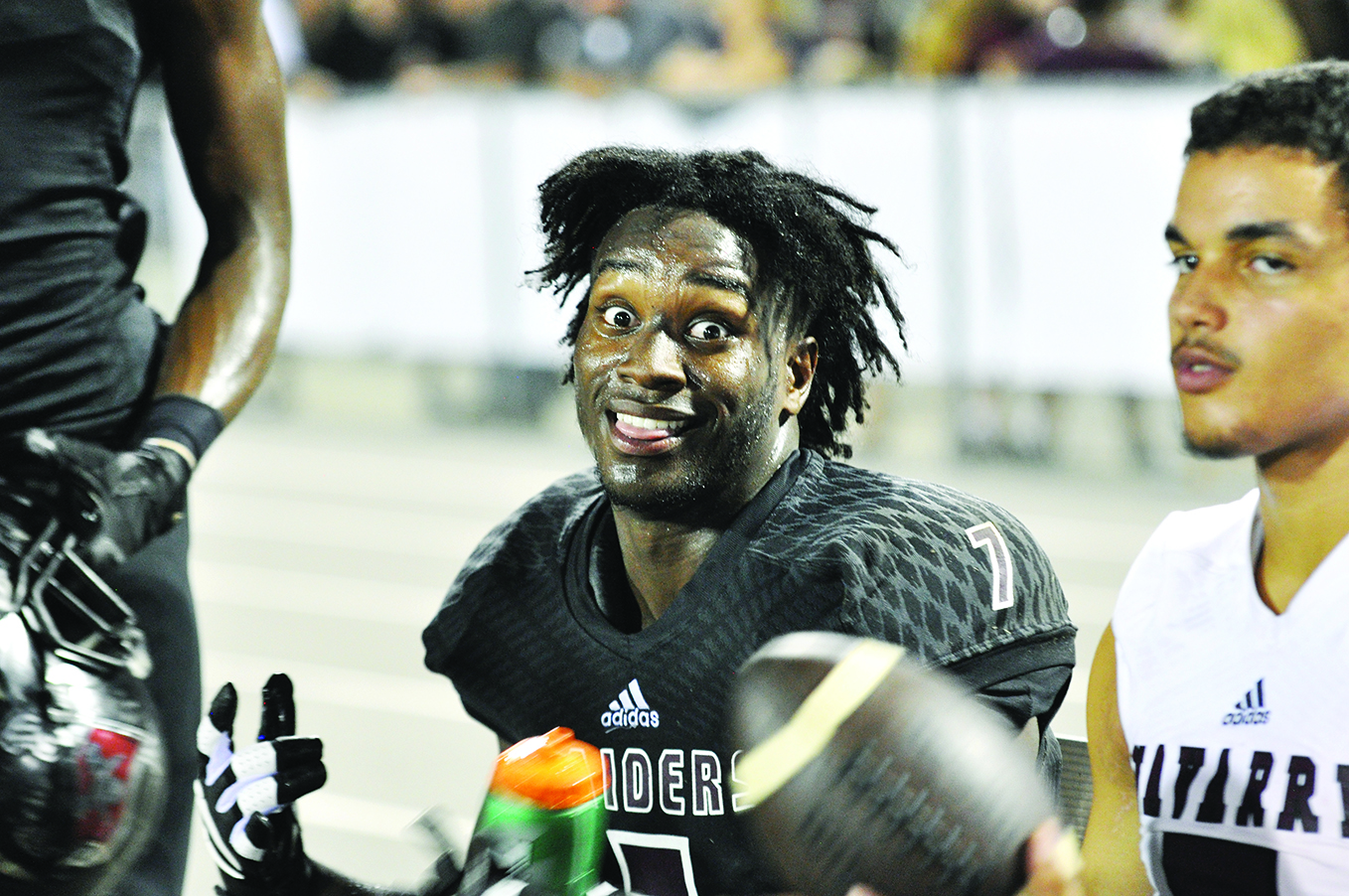 For those who doubted that Navarre High School's Michael Carter was 100 percent back from his injury he suffered last season were wiped clean of that disbelief after the Raiders' game against the Booker T. Washington Wildcats last Friday night.
That's because the all-star tailback, who committed to the University of North Carolina earlier this summer, scored all 5 of the Raiders' touchdowns that night, and lifted Navarre 36-20 over the Wildcats in their first home game of the 2016 season.
Raider head coach Jay Walls laughed after the game admitting he lost track of how many touchdowns his star tailback scored.
"I lost track, honestly," Walls said. "We played him to his full ability tonight."
Carter's first touchdown wouldn't come until a little under 3 minutes into the second quarter. Neither Washington nor Navarre put a single point on the board in the first quarter. But that momentum all changed in the second.
After the start of the second quarter, Navarre would turn the ball over to the Wildcats after a punt, but that ball landed directly on the Wildcat 1-yard line. Navarre seized the opportunity and sacked Wildcat QB Andre' Hunt for a touchback.
That touchback was quickly followed up by Carter's first touchdown of the game to put the Raiders ahead 9-0.
Navarre would come back less than 3 minutes later and attempt a field goal at their own 4-yard line, but the attempt at the extra points was no good.
The Raiders in the end wouldn't need that field goal after Carter followed up the missed opportunity with a touchdown with 4:16 left in the half putting the score 16-0 after the point after.
The half would end with the Raiders' 16-point lead after the Wildcats were unable to get the ball past Raider defense.
But the third quarter brought a huge change in momentum for the Wildcats.
The Wildcats received the ball at the start of the third, but quickly turned it over to the Raiders at their own 44-yard line.
It wouldn't take long for the Raiders to get down to the Wildcat 14-yard line. And after a handoff to Carter, near the 10-yard line, the Raiders sealed a 23-point lead over the Wildcats.
But the celebration didn't last long following the touchdown. On the punt return following the Raider touchdown, Washington's Eric Goldsmith scooped the ball up in their own territory and pummeled down the field for a 70-yard touchdown run past Raider defense. The point after for the Wildcats was no good, keeping the Raiders ahead 23-6 with 9:16 left in the third quarter.
Desperate to keep a strong lead, Carter scored his fourth touchdown of the game less than 3 minutes later after a handoff from the Raiders' Caine Adamson.
The Raider point after was no good, keeping the team ahead 29-6.
The Wildcats received Navarre's punt return at their own 26-yard line, but were able to get the ball down to Navarre's 12-yard line less than half a dozen plays later.
With a second down and 2 yards to go, Hunt kept the ball and ran down the center past Raider defense for a touchdown with 2:40 left in the third. This time, the Wildcats would go for a 2-point conversion, which was good, keeping the Raiders ahead of the Wildcats 29-14.
Determined to make the Raiders even more nervous, the Wildcats put another 6 on the board before the end of the third quarter.
With a little under a minute left in the quarter, Hunt pitched the ball to Aaron Malory at the Wildcats' 33-yard line, and the senior carried the ball down the right sideline all the way to the end zone without hesitation.
The Wildcats attempted another 2-point conversion, but it was no good, leaving them only 9 points behind the Raiders at the end of the third quarter.
Despite the nervousness from players at the beginning of the fourth, the Raiders kept up their determination all throughout the final quarter. Carter was able to seal another touchdown less than a minute into the final quarter, putting the score 36-20. And that's where the scoreboard stood until the end of the game.
Walls said the Raiders suffered a lot in the third quarter from Wildcat offense, but were able to come back in the end to seal the game.
"We just gave up some good plays and they had a lot of momentum going," Walls said. "They had that kickoff return and long run. They had a lot of momentum."
But Walls said the momentum didn't last long.
"We answered back. I feel like our kids didn't play their best, but they didn't lose their poise," Walls said. "They tried to play hard."
Walls commended Carter for his stellar performance at the end of the game.
"I guess he had 5 touchdowns. I didn't even count them," Walls said. "He played really well for us tonight."