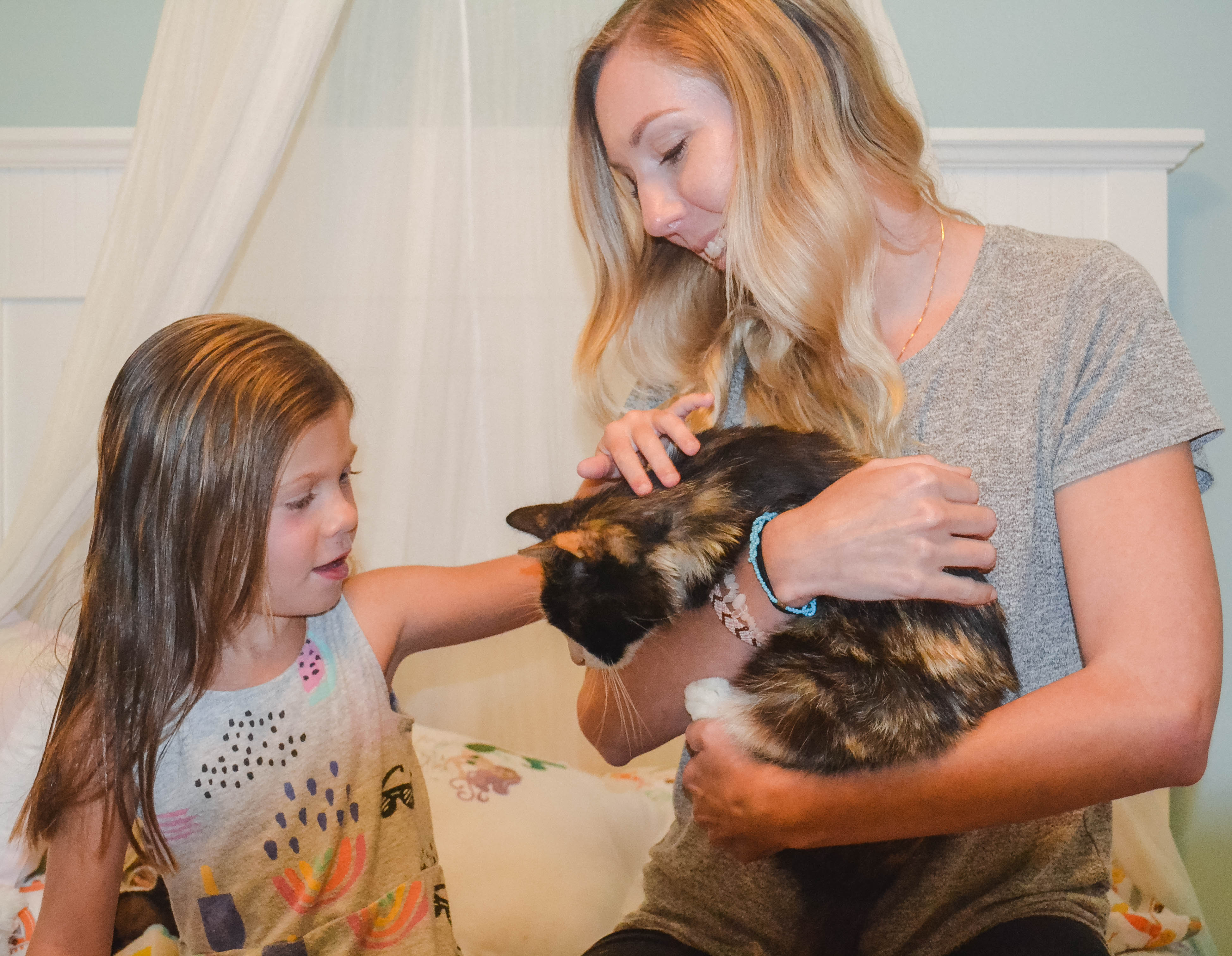 Arabella (Bella) first came into our family when my now husband and I were dating in 2009. She was born in the stall door at a barn, and my husband saved her and her siblings and we took her home. Not long after, my husband started his career in the military, and Bella moved with us as we moved frequently for his career, from Missouri to Arizona, Las Vegas, South Korea, and then to Georgia. When we arrived in Georgia, Bella was 6 years old and had been with us since she was just a tiny kitten.
Bella was always an indoor cat, but on the very rare occasions that she did, she would sit on the front porch or yard for a few minutes and then come right back in. In December of 2014, we had been living in Georgia for a few months at this point, and Bella slipped outside to the front porch on what happened to be one of the coldest nights of the year. When I went back a few minutes later to let her in, she had disappeared.
We searched everywhere for Bella, posted online, checked vets and shelters, and drove around looking for her. We placed food and her litter box on the back porch, but she never returned. We lived in Valdosta for another 6 months after that, without any sign or word from Bella. From there, we PCS'ed to Fairbanks, Alaska for two years, before moving to Navarre, Florida on another military assignment in April of 2017.
We always held out hope that Bella would be found, but feared the worst as the years went by without her. On August 3, 2018, I received an e-mail from an unknown sender with the title FOUND CAT. I opened it to find a message from the Lowndes County Animal Shelter saying that Bella had been found and identified through her microchip in Valdosta, Georgia. The officer informed me that a woman called them to report Bella wandering around an apartment complex just 2 miles from our home when we lived there.
We were informed that Bella was in pretty bad shape and immediately started putting a plan to go and get her. Because we wanted to get her seen at a vet as soon as possible and knowing that we wouldn't be able to make it up there for several more days, we contacted friends at SOCKS who put the word out to see if anyone was available to help transport.
Kimberly Neill saw this notice that morning, and happened to be heading to Tallahassee and offered to pick up Bella and bring her home that day. At 10 pm that night, I went with my daughter, who was 1 1/2 when Bella went missing, to meet with Kimberly and bring Bella home.
"At that point, I was still in complete shock that Bella had been found and was actually returning home after all of these years. I was overwhelmed with happiness and gratitude towards everyone in our community that came together to bring her back to her family. The events of the last few days were nothing short of a miracle. Walking up to the car, I was nervous that she might not remember us and scared of the kind of impact living alone on the streets might have had on her. However, all of that went away as soon as I saw her. She perked up instantly the moment I called her name, and even though she was weak from starvation, she purred in my arms as I held her. The amount of joy and relief our family has experienced the last few days is indescribable."
Since her return home, Bella has been slowly recovering and seems to be adjusting well. A trip to the vet revealed that she weighs 5 lbs, a far cry from the near 15 lbs she was before she went missing, and the vet stated he did not believe she would have made it much longer. We are awaiting the results from her blood tests and have begun treatments for her skin infection and fleas. The vet was optimistic at this point about her recovery and so are we.