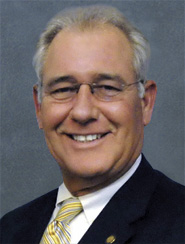 The Northwest Florida Legislative Delegation in coordination with the family of Senator Robert G. "Greg" Evers will host a road designation sign unveiling ceremony on Mon., Sept. 17 at 2 p.m. at the Baker Community Center.
The unveiled signs will be placed at both ends of State Road 4 between Munson Hwy. and S. R. 189 in Santa Rosa and Okaloosa counties designating that portion as "Senator Greg Evers Memorial Highway."
Senator Evers was a fifth-generation northwest Floridian whose primary career was in agriculture. He served in the Florida House of Representatives from 2001 to 2010 and in the Florida Senate from 2010 to 2016. Throughout his legislative career, Senator Evers was recognized as a champion for law enforcement, first responders and veterans. Senator Evers passed away unexpectedly on August 22, 2017.
On March 23, 2018, Governor Rick Scott signed CS/SB 382 into law, memorializing the late Senator along with 37 other honorary designations across Florida's transportation facilities. The road designation for Senator Evers was sponsored by State Representative Jayer Williamson (District 3), State Representative Brad Drake (District 5) and State Senator Doug Broxson (District 1).
"Senator Evers was a dedicated public servant that believed in protecting the citizens of our great state," said Williamson. "Renaming a portion of Hwy. 4 in his honor will ensure that his legacy and patriotism are not forgotten."
For questions concerning the ceremony, please contact Representative Williamson's district office at 850.995.3698 or HDIST003@myfloridahouse.gov. Directions to the Baker Community Center may be found at www.BakerArena.com.