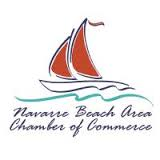 The Navarre Beach Area Chamber of Commerce removed two directors at a July 20 meeting, and a third director resigned afterwards, leaving four vacancies on the troubled board.
Navarre businessman James Dabney, owner of East River Smokehouse, and Cindy Stephens, branch manager of Beach Community Bank in Navarre, were voted off the board. Stephens was Vice Chairman.
"I had called them out on some (stuff). And Cindy called them out," Dabney said. According to Dabney, the chamber is having financial issues amid legal woes.
Two other board members voluntarily left the organization — Gary Fields recently resigned, and Heather Scruggs submitted a resignation letter following Wednesday's meeting.
"The final straw was them removing James and Cindy," Scruggs told South Santa Rosa News, citing ongoing strife within the organization, including the termination of the chamber's Military Affairs Council chairman.
Tony Hughes, president of Beach Community Bank, was removed as MAC chairman after filing a defamation lawsuit against the chamber and its CEO Judy Morehead.
Hughes filed suit in May, alleging Morehead, during an April 6 chamber gathering, had falsely accused him of removing money from the chamber's MAC bank account.
"Tony Hughes has time and again proven himself as a tireless leader, strengthening the (MAC)…I am saddened that this situation could not have been resolved to the satisfaction of all," said Navarre Area Board of Realtors Association Executive Angela Campbell.
Hughes said he wasn't surprised that Stephens and Dabney, a customer of Beach Community Bank, were also removed.
"It's disappointing that the chamber's board of directors seems to prefer dismemberment over discussion and discourse," Hughes said Thursday.
Chanda Ryan, a chamber staff member who handles membership and marketing, said chamber membership is down from around 540 in July 2015 to 470 active members today.
According  to Ryan, in 2015 there were  71 members who did not renew and 51 new members — for a net loss of 20 memberships.
So far in 2016, 95 members have not renewed, and there have been 48 new memberships, totaling a year-to-date loss of 47.
Board Chairman Linda Fusco said the organization is trying to "move forward" and seeking replacements for the board vacancies