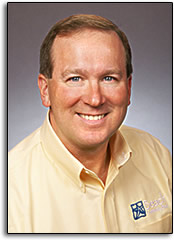 Beach Community Bank President Tony Hughes, who serves as chairman of the Military Affairs Council for the Greater Navarre Area Chamber of Commerce, has been named to the Economic Development Council of Okaloosa County's Defense Support Initiative Committee.
According to Kay Rasmussen, associate director of the EDC, the committee monitors state and federal activities and how they may impact local military installations and missions. "As needed, we advocate for and educate at the local, state and federal levels," she said.
The EDC originated the Defense Support Initiative in 1991 to focus on supporting and maintaining the Eglin Complex and existing missions. The EDC, through its Defense Support Initiatives Committee, is recognized by the State of Florida as the official representative and lead agency in the Okaloosa County area for base-community initiatives.