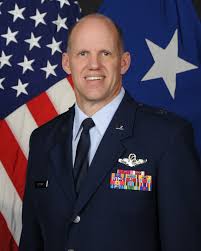 UPDATE: Dertien has been called away, and the chamber is working to find another speaker for July
The Greater Navarre Area Chamber of Commerce on July 17 will host special guest Brig. Gen. Evan C. Dertien, Commander of the 96th Test Wing at Eglin Air Force Base.
Dertien will be the featured speaker during the chamber's monthly military affairs council luncheon and discuss current events at the installation, which provides a local economic impact of $2.7 billion annually, according to the Air Force.
Dertien leads more than 9,800 military, civilian and contractor personnel in accomplishing the test wing's missions of developmental testing and evaluation of conventional munitions, command and control systems, aircraft avionics and guidance systems and radar cross section measurement, per the USAF.
He is also responsible for providing all base operating support, infrastructure and services support for Eglin, the Air Force's largest installation, comprising 724 square miles.
He commands eight groups and 32 squadrons. The test wing operates 38 modified test aircraft and manages 120,000 square miles of over-water test ranges, plus facilities in six different states.
Lunch will be served at 11:30 a.m., and the program will start at 12 noon and end around 1 p.m. Lunch is being sponsored by the Navarre Area Board of Realtors.
The event will take place at the Beach Community Bank conference room, located at 9290 Navarre Parkway. Reservation are not required.