Navarre business leaders, government officials and community stakeholders gathered Tuesday at the Navarre Beach Area Chamber of Commerce to receive an update on the status of local transportation projects. Photo by Romi White.
The Navarre Beach Area Chamber of Commerce on Tuesday hosted its monthly Transportation Task Force meeting, discussing updates on multiple infrastructure projects, including the future Navarre Beach Bridge, which is planned for construction up and over U.S. 98 at the southern terminus of Hwy. 87 S.
Following completion of a feasibility study, efforts on the new bridge now turn toward funding a required $2-3 million PD&E study for the span, which is expected to connect to a county-owned parcel on Santa Rosa Island located near the Navarre Beach fire station.
Col. Dave Piech, USAF (Ret.) serves as chairman of the task force, which meets at 4 p.m. on the third Tuesday of each month.
In addition to chamber officials and community members, other attendees at Tuesday's meeting included District 4 County Commissioner Ray Eddington, District 3 County Commissioner James Calkins, and Alexandra Whitney, representing Florida House District 3 Representative Dr. Joel Rudman. To avoid violating Florida's Government-in-the-Sunshine Law, the commissioners did not share information while both were in the conference room. However, after Eddington left the meeting early, Calkins said he will be opposed "any" tolls on the future bridge and that funding for the aforementioned PD&E project is expected to be allocated during the upcoming Santa Rosa County Fiscal Year 2023-2024 budgeting process.
Tiffany Bates, community liaison for Emerald Coast Regional Council, a planning organization which coordinates intergovernmental solutions to growth-related problems throughout the Panhandle, confirmed that the widening of U.S. 98 from four to six lanes in Navarre has begun.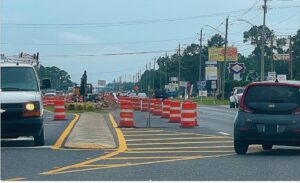 The widening of U.S. 98 from four to six lanes has started in Navarre just west of Navarre Beach Bridge. Photo by Romi White.
Task force members say that when all portions of the widening project are completed, U.S. 98 will not only be a six-lane road from Pensacola Bay Bridge to Mary Esther Boulevard in Okaloosa County but also a safer route due to the elimination of some median cuts.
Earl Dorman and Skip Dalle Molle, two members of the newly formed Protect Navarre anti-incorporation group, also attended the meeting. The duo plan to share the information they learned with the group's own transportation and infrastructure committee.
Other attendees included TC's Front Porch Owner Bob Benaquis, who is developing the Navarre Town Center project. Benaquis said he is participating in the task force in order to stay on top of local transportation issues which could potentially impact his project and its multiple current and future tenants.
The meeting's agenda also included discussions about local connector roads, revisiting the traffic light study at Ortega Street as new businesses open, and sidewalk improvements. According to Piech, Santa Rosa County has $1 million available for sidewalks. "We need to make sure Navarre gets a good portion of that money."
The next task force meeting will take place at 4 p.m., Tuesday, June 20 at the chamber, which is located at 1804 Prado Street in Navarre. The meetings are announced on the chamber's events calendar located at https://www.navarrechamber.com/events.