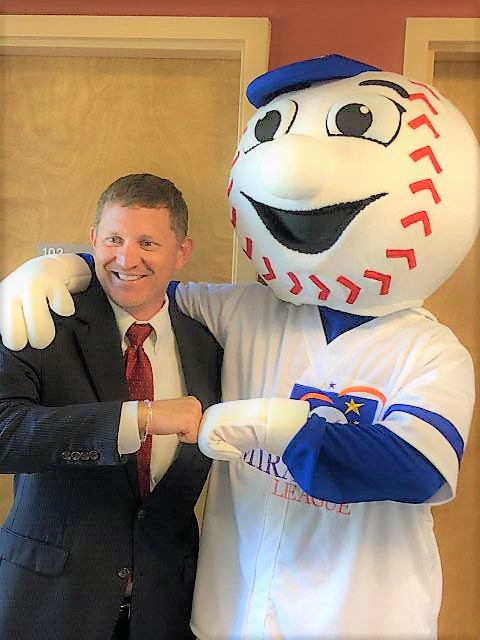 Santa Rosa County District 5 Commissioner Lane Lynchard pictured May 10 with Homer, mascot for Miracle League
Santa Rosa County will get its first special needs ball field next year thanks to a dedicated board of directors and support from county and state leaders who stepped up to help fund its roughly $330,000 construction.
District 5 Commissioner Lane Lynchard sought and received support from fellow commissioners, State Sentator Doug Broxson and Representative Jayer Williamson to build the inclusive field at Tiger Point Park. Construction is expected to start later this year and be completed early next year.
"We have a great park at Tiger Point, and have worked to make it accessible. The Miracle League field will build on this effort, and provide an opportunity for kids with special needs to get out and have fun playing baseball," Lynchard said.
District 5 recreation funding plus an additional $150,000 in state funding will be utilized for the project.
"I want to thank Commissioner Lane Lynchard for bringing this great project to the forefront. Few counties in Florida can say they allow everyone to participate in sports. Now, those with special needs will be able to enjoy America's pastime in Santa Rosa County, a dream many with physical challenges are not able to realize," stated Broxson.
Presently the only Miracle League field operating in the area is located in Ensley, north of Pensacola. However, there are more than 240 Miracle League organizations in North America.
"This project, and the strong support behind it, shows the heart our community has for people of all abilities," Lynchard said.
For more information about the Miracle League of Santa Rosa visit www.miracleleaguesrc.weebly.com.