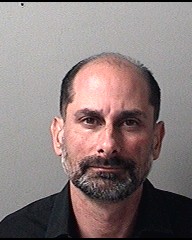 A DUI charge was dismissed against a well-known Mobile, Ala. lawyer and Navarre resident Wednesday after the Florida State Attorney's Office ruled there was not sufficient evidence to prove the suspect was under the influence during the time of his arrest.
The attorney, David J. Maloney, who has an address at the 8100 block of Pampano Street, was arrested back on May 8 by an Escambia County deputy on Pensacola Beach after the law enforcement officer believed Maloney was driving under the influence.
The state attorney's office based their decision to dismiss the charge based on "insufficient evidence to prove the charge beyond a reasonable doubt."
Maloney was spotted speeding in his 2005 Lamborghini in the 1600 block of Via de Luna on Pensacola Beach by the deputy at around 3:35 a.m. that day.
Maloney's arrest report indicated that the officer clocked Maloney going 55 mph in a 35 mph zone, prompting him to pull the vehicle over.
Once pulled over, the officer noted in the report that he could smell a strong odor of alcohol coming from Maloney's breath and that the lawyer had bloodshot eyes.
When the officer asked the attorney if there was any reason why he was smelling alcohol coming from Maloney's mouth, Maloney responded "You can't".
The arrest report indicated Maloney told the officer he was coming from an Ice Flyers celebration with his wife, who was in the vehicle with him, the report indicated.
According to the State Attorney's Office, witnesses saw Maloney purchasing a drink earlier that night at the Ice Flyers party, but that the drink was for his wife. The report stated that Maloney declined a drink for himself because he was driving.
Maloney refused a field sobriety test at the scene of his arrest.
After Maloney was handcuffed, he told the officer, "Let me ask you a question? Keep me cuffed if you want to. Can we go sit out over there and try to figure this out?", according to his arrest report.
Maloney was later transported to an intoxilyzer room before being transported to Escambia County Jail, but refused to submit to a Breathalyzer test.
According to the report, Maloney refused to submit to one based on "his convictions".
The officer noted in the report that while observing Maloney during questioning in Pensacola, the officer could smell alcohol emanating from Maloney's breath.
Maloney was later transported to Escambia County Jail, where he posted $500 bond 6 hours after being booked.
Court documents indicated that none of the videos reviewed by investigators showed any indication that Maloney was under the influence.
That included video from the scene of the traffic stop on Pensacola Beach and inside the intoxilyzer room.
The documents stated Maloney would not be charged because of the lack of any indication that he was intoxicated in the videos that investigators viewed.
"While the defendant was speeding, had an odor of alcohol and had bloodshot and watery eyes, these factors alone do not reach the level necessary to prove the charge beyond a reasonable doubt," the State Attorney's Office report stated.
Maloney is well-known for his television ads in which he criticizes drunk drivers.
According to his website, Maloney represents clients who have been injured in automobile accidents, including DUI-related accidents with injuries.
In a number of his television commercials for his law firm, Maloney is often heard taking a strong stance against DUIs and DUI suspects.
In one of Maloney's numerous television ads, he's heard saying, "I've said it before, and I'll say it again: If you drink, and you drive, and hurt someone, don't call me. I'm not going to represent you."
In another commercial, he's quoted as saying, "Whatever happened to drinking responsibly? If you drank too much, you call a cab or a friend, get a ride home. Now, too many people drink and drive…then they get sued by us."
Maloney is one of several lawyers who represent the firm Maloney-Frost, LLP. Attorneys at Law, based out of Mobile. They also have an office in Biloxi, Mississippi, according to their website. Maloney has been a licensed attorney for over 20 years.