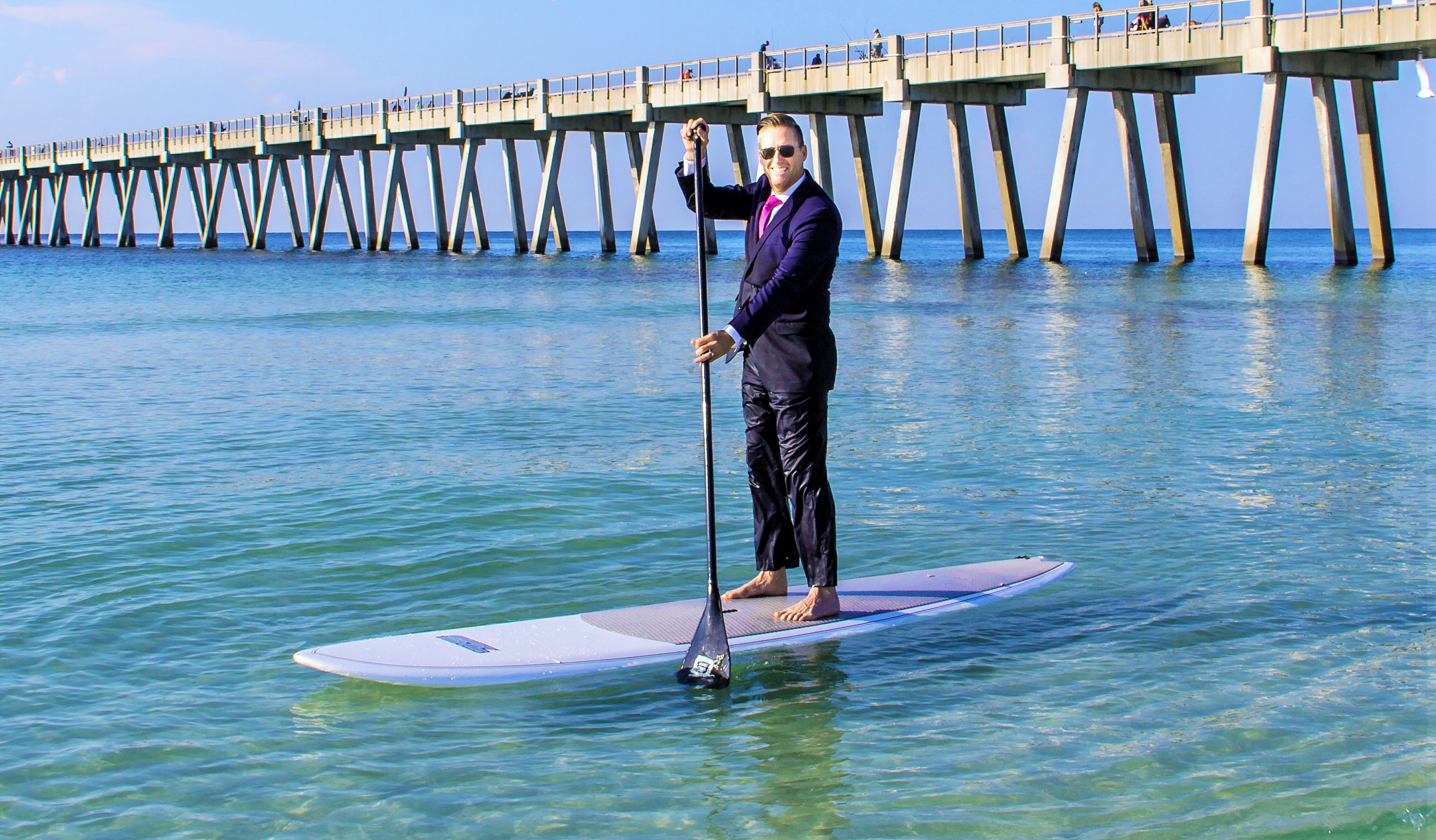 Photo credit Amie Williamson
District 4 County Commissioner Rob Williamson doesn't shy away from addressing tough, controversial issues. He's aimed at making progress, and people are paying attention.
On Tuesday, Williamson hosted a public meeting on the "Heart of Navarre" Tourism Corridor, and an overflow crowd of about 75 people packed the Navarre Visitor Information Center to hear what he had to say and provide input.
"It does my heart good to see this many people here," Williamson said.
Issues related to the corridor, which extends from Andorra Street to Ortega Street on U.S. 98 and also includes county-owned property on Santa Rosa Island, were discussed.
Topics ranged from renovation of county park entrances and facilities to the need to reduce excessive signage on the beach.
Signage is "out of control," Williamson said, expressing intentions to consolidate some signs to reduce signage pollution, an issue Islanders have been advocating for years.
"This (effort) is going to be significantly valuable to our overall plan to increase tourism and more importantly showcase our area as it needs to be to our out-of-town visitors," said Santa Rosa County Tourist Development Director Julie Morgan.
Other matters on the agenda included improving traffic flow by reconfiguration of the intersection on Gulf Boulevard and redesigning Navarre Park, a county-owned facility.
When Navarre resident Joe Mascara spoke out against the continued use of Navarre Park for the Navarre Beach Chamber of Commerce's Thursday evening concert series, Williamson didn't hold back — despite the presence of chamber representatives.
"I couldn't agree with you more," Williamson said. "I look forward to working with (the chamber) about another venue we could move that to."
And Sheriff-elect Bob Johnson agrees that the commission should finally tackle that issue, which has been a growing concern.
"The traffic congestion on U.S. 98 makes it 'very dangerous' for pedestrians to cross during the afternoon hours. This, combined with the limited parking spaces at the park, makes for a 'catastrophe' waiting to happen," Johnson said, suggesting the beach would be a 'much safer' place because of ample parking and less through traffic.
In addition to daring to change the venue of the popular concert series, Williamson shared other ideas to combat growth, which he said is "not going to go away."
He told attendees that a Master Site Plan for Navarre Park is expected to be completed next March by a third-party consultant, Genesis.
Toward that end, Williamson is seeking public input for needed improvements at the Park, including ADA accessibility improvements and possible consolidation of entrances.
Williamson said construction of Navarre Park improvements are expected to begin in November 2017 and that he would also consider pursuing a master plan for Navarre if it's the desire of the community.
To provide input to the Park's master plan or issues involving the corridor, email the commissioner at RobWilliamson@santarosa.fl.gov.