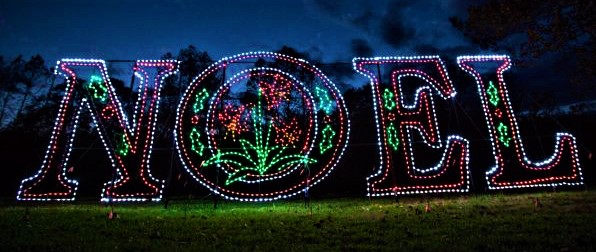 CHRISTMAS PARADE SCHEDULE
City of Milton Reindeer Parade and Lighted Boat Parade
5:30 p.m. and 7:45 p.m., Friday, December 1
Events taking place throughout historic downtown
Reindeer parade starts at Walton Street and follows Oak Street to Riverwalk Park where a lighted boat parade starts at 7:30 p.m. Other "Light Up Milton" activities in the area include carriage rides, local music performances, a holiday market and a 6:15 p.m. outdoor movie at Riverwalk Park.
City of Gulf Breeze Christmas Parade
10 a.m., Saturday, December 2
Starts at Shoreline Drive entrance to Gulf Breeze High. Route follows Shoreline Drive throughout the city. The theme this year is "Sailing into the Season" and features marchers, and classic cars. Santa Claus will be escorted by Gulf Breeze Fire and Police Department at the finish of the parade
Pensacola Beach Lighted Boat Parade/Fireworks
Pre-show 4 p.m and parade 6:30 p.m., Saturday, December 2
Starts in Little Sabine and ends at Pensacola Beach Boardwalk
Kid's pre-show party 4-6 pm at Shaggy's. Lighted Boat Parade starts at 6:30 pm from Sabine Marina and make its way to Pensacola Beach Boardwalk where it will dock by about 7:30 pm. Fireworks with Santa on Santa Rosa Sound at 8 p.m.
Navarre Community Christmas Parade
1 p.m, Saturday, December 2
The Annual Navarre Community Christmas Parade will start at Navarre Library and turn south on Presidio Street then east at Esplanade Street, ending in the back parking lot of Centennial Bank. Features floats with Santa at the end.
City of Milton Christmas Parade
6 p.m, December 2
Starts at James Street and ends at Elva Street
Bands, fire trucks, horses, floats and Santa at the end!
Surfing Santa Christmas Parade
2 p.m, December 3
Pensacola Beach
Thousands of children, parents and other spectators make their way to Pensacola Beach on Sunday to see Santa Claus making his way down Via De Luna Drive from Avenida 10 to Casino Beach for a meet and great until 3 pm.
Fort Walton Beach Christmas Parade
6 p.m, Monday, December 4
Plenty of marching bands playing Christmas music, festive floats, candy, beach and other throws. Route is Eglin Parkway beginning at First Street and ending at Kmart parking lot.
Destin Christmas Parade
10 am, Saturday, December 9
The City of Destin's 33rd Annual Christmas Parade will be held on Saturday, December 9, 2017 at 10am. This year's theme is "All I want for Christmas." The floats will start at Downtown Destin Shopping Center (Old Time Pottery) and travel West down Harbor Blvd. (Hwy 98) to Stahlman Ave.
Pensacola Christmas Parade
5:15 p.m, Saturday, December 9
Downtown Pensacola
Nearly 90 entries attract 50,000 spectators who line up to see the renowned Blue Angels elite flight team, bands from across the region and floats galore! Route starts at Spring Street at Garden Street.
HOLIDAY LIGHT DISPLAYS
Light up Milton
6-9 pm kickoff Dec. 1
Riverwalk Park – S. Willing St., Milton
Info: www.sracf.org
Charming light display in historic Milton. Christmas tree lighting ceremony kicks off season and features a lighted boat parade, children's parade, carriage rides and other fun-filled family activities.
Sowell's North Pole Christmas Light Display
5:30-9 p.m., Dec 1 -27 (open Christmas Eve and Christmas)
Sowell Farm – 7650 Sowell Rd., Milton
Admission: $10 per vehicle
Info: ashlieabbott@icloud.com
Drive-thru Christmas light display featuring $2 train rides (kids 2 and under free)
Zoo Lights
5-9 p.m., Dec. 15-30th
Gulf Breeze Zoo – 5701 Gulf Breeze Pkwy
Admission: $10 Adults; $10 Children; $5 Members
Info: (850) 932-2229 or www.gulfbreezezoo.org
Enjoy the beauty of the Zoo at night with thousands of holiday lights!
Wonderland of Lights
6-9 pm (until 10 pm Fri-Sat)
Open thru Dec. 30 (closed Dec. 4, 5, 11 and 12)
Pensacola Interstate Fairgrounds – 6655 Mobile Hwy.
Info: (800) 377-4625 phone
Admission: $20 per vehicle, $35 per min-van or limo, $75 per motorcoach, $35 season pass. See website for details.
Dazzling displays of holiday scenes easily visible during drive-through car tours, but at Santa's Village, even more holiday wonder awaits: Santa visits, photos with ponies/camels and a holiday market!
Wales West Light Railway's Arctic Express
4-9 pm Fri-Sun thru Dec 10; open daily Dec 11 – 24
13670 Smiley St., Silverhill, AL
Admission: $15 plus tax per person; 2 and under free
Info: www.waleswest.com
Over 1 million lights, Santa visit with free toy, authentic train right through snowy winter wonderland and snow machines!
Christmas Nights of Lights
5:30-10 p.m. thru Jan. 1 (rain or shine)
Hank Aaron Stadium – 755 Bolling Bros. Blvd., Mobile, AL
Admission: $6 per person; 3 and under free
Info: www.christmasnightsoflights.com
Over 1 million LED lights, driven by over 10,000 computer channels, synchronized to both traditional and new rocking Christmas music playing through your car radio. Pack your vehicle full of friends and family to enjoy the show
Magic Christmas in Lights
5-9 pm, thru Dec. 31
Bellingrath Home – 12401 Bellingrath Gardens Rd., Theodore, AL
Admission: Starts at $15 Adults; $7.50 children 5-12
Info: (251) 973-2217
A dazzling nighttime display with more than 1,100 set pieces, 3 million lights and 15 scenes, set out in a walking tour throughout the 65-acre Garden estate
Christmas Reflections
5-9 pm thru Jan. 1
Chipley Park – Circle Dr., DeFuniak Springs, FL
Admission: $ 3 per person; 6 and under free
Info: (850) 974-6774
Millions of lights reflect onto the lake and displays include a Nativity scene, toy soldiers and more
Other notable displays open to the public:
Destin Commons – 4100 Legendary Dr., Destin
Navarre Park – 8543 Navarre Pkwy., Navarre
Ft. Walton Landing Park – Brooks St., Ft. Walton