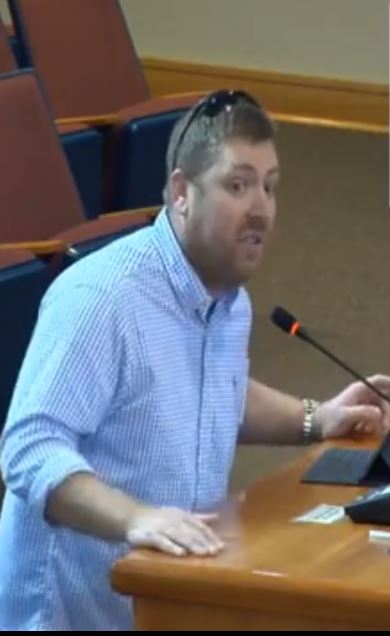 Chris Smith, who has nearly 30,000 followers on social media, took aim at commissioners, stating they were not taking action against their administrator whom he said was caught lying.
Santa Rosa County Administrator Dan Schebler has been under fire since twice falsely stating the county had applied for state road funding, when it had not, and then by blaming the Florida Department of Transportation had run out of money as the reason the county didn't receive funding. He later said the county had made a decision not to apply.
"(Schebler) blatantly lied," said Chris Smith, owner of Gulf Coast Guns, during today's commission meeting.
Smith said it was "very disgusting" that the county didn't fill out the paperwork to get Small County Outreach Funding which has provided up to $1.4 million per year for Santa Rosa County to pave or resurface roads. "You guys don't seem to care. You wanna brush it under the table."
District 3 Commissioner James Calkins has criticized Schebler for not applying for the paperwork, asking why the decision was made not to apply and accusing other commissioners of trying to "cover up" for it.
District 4 Commissioner Dave Piech and District 5 Commissioner Colten Wright last week took shots berating Calkins for questioning county staff.
"You guys chastised (District 3 Commissioner James Calkins) for asking that question…the question has not been answered."
Schebler was evasive toward Smith and later repeated a statement he had issued the day after he first "misspoke" on the matter, blaming a lack of time and staff.
"This is absurd, and you guys are not holding him accountable for anything," Smith said, noting he will encourage 1,000 people to attend the board's next meeting.
The commission will reconvene at 4:30 p.m. on Tuesday, May 11. The meeting will take place at 6495 Caroline Street in Milton.