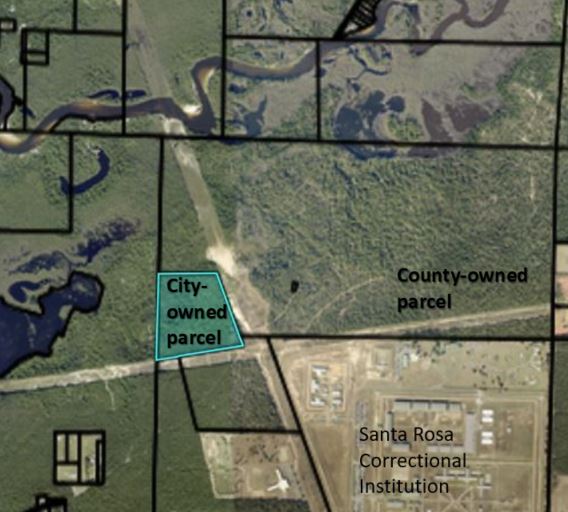 Although more than 5,500 petitioners protested the future wastewater treatment plant being constructed near Cooper Basin and a historic cemetery, the City of Milton plans to move forward.
Residents spoke out during Monday's Santa Rosa County Commission Meeting and Tuesday's City of Milton Council meeting after discovering the city plans to push forward with plans to construct a new wastewater treatment plant on a 24-acre site some citizens says is too close to Blackwater River.
"To find out now that we've been completely torpedoed in this was quite a shock," Jerry Couey told council members. "I felt like we tried to get a reasonable compromise and for whatever the reason we've been thrown under the bus in the process."
After the U.S. Navy nixed plans to pipe the future plant's treated effluent across Blackwater River for discharge at NAS Whiting Field golf course, a less costly alternative was devised to build a rapid infiltration basin system (RIBS) on county-owned property adjacent to the plant.
Subsequently, Couey and others, including elected officials, suggested the city consider building the plant at the RIBS site, which is further from the river and on property which doesn't have as steep of a slope.
Pam Mitchell, who lives on Cooper Basin, reminded commissioners that unforeseen disasters happen, noting the 5.7-million gallon May 2021 sewage spill in Perdido Bay caused by a ruptured pipe.
But during Monday's commission meeting, Milton City Manager Randy Jorgensen reiterated plans to proceed with the original site.
Jorgensen told South Santa Rosa News the plant was designed and engineered for the original location, which allows for a gravity-fed system. He said relocating the plant to the RIBs site would require 30 more acres of land and increase project costs by $8 million, including $6.5 million for lift station.
Mitchell and others argue that building the plant adjacent to the RIBS would save some money by eliminating the need for a lengthy pipeline between the facilities. During Thursday's commission meeting she asked the board to swap the controversial 24-acre plant site with the city in exchange for more land around the RIBS site.
But commissioners did not change their minds and formally approved providing just 100 acres of the adjacent 302-acre parcel for the RIBs. In exchange, the county will receive effluent disposal capacity at the plant.
Florida Senator Doug Broxson on Wednesday told South Santa Rosa News that state funding is tied to the overall project, not a specific location for the plant. However, he expressed concern over a lack of progress on the project, which has been underway for more than a dozen years. He pointed out that 2022 is a critical year for the city to get the project up and running.
The City had been facing a December 2023 deadline at its existing plant, which was reaching maximum capacity. However, Santa Rosa County decided to build a miniature wastewater treatment plant at an industrial site near Interstate 10 in East Milton, resulting in capacity reduction of 80,000 gallons per day and buying more time for the project.
Environmental advocates hope enough time remains to persuade leaders to change course on the future plant.
Former Milton City Councilman George Jordan on Tuesday implored the council to reconsider, pointing out that a spill could threaten critical breeding habitat for the endangered Gulf sturgeon.
"This is one of the few areas in the South where they (spawn)," Jordan said, explaining Gulf sturgeon, which reach up to 8 feet in length, can be seen breaching in the mouth of Cooper Basin.
"It's the most amazing thing you're ever seen," he said. "If we do anything that changes (that) basin we could lose that…"Think about this carefully. To do away with that whole species just for the convenience, I don't think it's worth it."