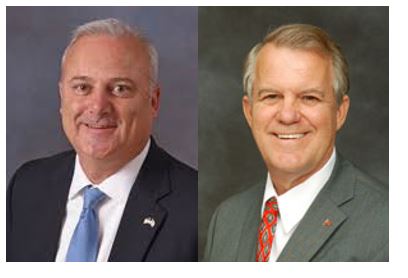 Governor Scott yesterday signed HB 29 into law. The legislation, sponsored by Florida House Representative Mel Ponder and Senator Doug Broxson, is designed to honor and help ease the burden of frequent transitions by promoting workplace opportunities for military members and their families.
The bill was named for the late Capt. Don Hahnfeldt, USN, Retired, a highly decorated career Naval Officer who always maintained a passion for supporting the military, their families, & veterans, with particular attention to employment.
"Representative Renner was a highly motivated prime-co sponsor of this bill and fundamentally contributed to its success. I am especially grateful to Senate sponsor, Senator Doug Broxson, Governor Scott, the northwest Florida legislative delegation, and to the entire legislature for their support," Representative Ponder said, noting his district includes Hurlburt Field, Eglin AFB, Duke Field, and 7th Special Forces. "I sponsored HB 29 to address a number of transition related concerns that our military members and their families face with every new assignment."
HB 29 will take effect July 1 and includes measures that recognize the expertise and experience military members and their spouses bring to Florida by facilitating access to employment.
The bill includes revisions to licensure eligibility requirements, waives certain licensing fees, authorizes the recognition of certain military-issued credentials for purposes of licensure, designates March 25 as "Medal of Honor Day," requires the State Board of Education to issue a temporary certificate in educational leadership to military leaders, and supports the mission of Veterans Florida to help veterans transition to civilian life by maximizing access to employment.
"The unwavering support this bill has received is evidence of Florida's ongoing commitment to ensuring that those who serve can do so without having to navigate redundant and time consuming protocols during transitions to new duty stations or post-service opportunities," said Representative Ponder.
"I'm proud to sign this legislation to further expand career… opportunities for our military members, veterans, and their families," said Governor Rick Scott. "Florida is the most military and veteran friendly state in the nation, and we will continue working to support the brave members of our Armed Forces and their families who sacrifice so much for our nation and its freedom."