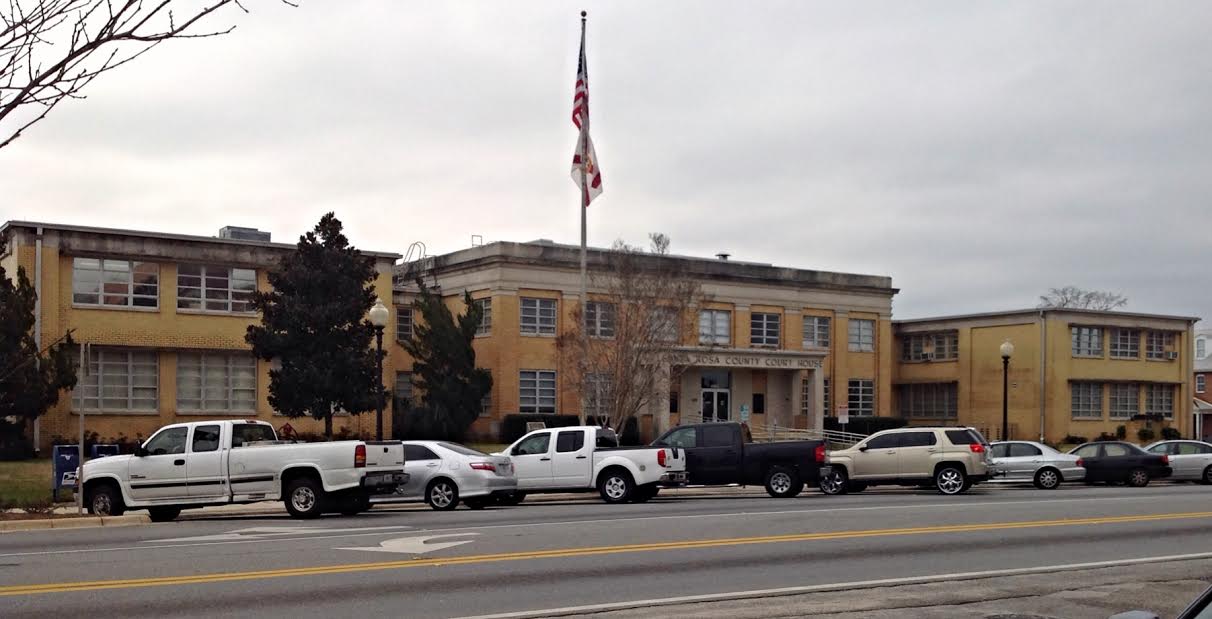 Santa Rosa County Commissioners this morning decided to wait until a full board of five is sworn before holding further discussions about funding a new county courthouse.
Voters during the Aug. 30 primary election shot down a third effort by the county to levy a local sales tax to fund a new county courthouse in downtown Milton.
Commissioner Bob Cole described the board's failed attempts to get voter support as an "ongoing saga."
" I believe it's time for this Board of County Commissioners to move away from this location. Move toward a location citizens will support," he said.
Milton attorney Jennifer Byrom again offer the board 15 acres of free land on U.S. 90 near the Santa Rosa County Jail.
East Milton resident Wallis Mahute supports building the jail in that area and pointed out that Hwy. 87 S is being widened and Interstate 10 is about a mile south of the intersection of U.S. 90.
Cole said he will look into the possibilities of sites in East Milton which are located within his district.
Gulf Breeze resident Scott Kemp called on commissioners to raise taxes to fund a new courthouse and suggested it be built near Avalon Boulevard. "We might as well go forward," Kemp said.
"I agree. We do need to move forward," said Commissioner Chairman Lane Lynchard. However, he moved to table any further discussions, including potential locations, until newly elected commissioner District 1 Commissioner Sam Parker is sworn in.
Former District 1 Commissioner Jayer Williamson stepped down earlier this year and made a successful run for the Florida House of Representatives, leaving an empty seat on the board.
Parker is scheduled to take the Oath of Office at the board's November 15 meeting.