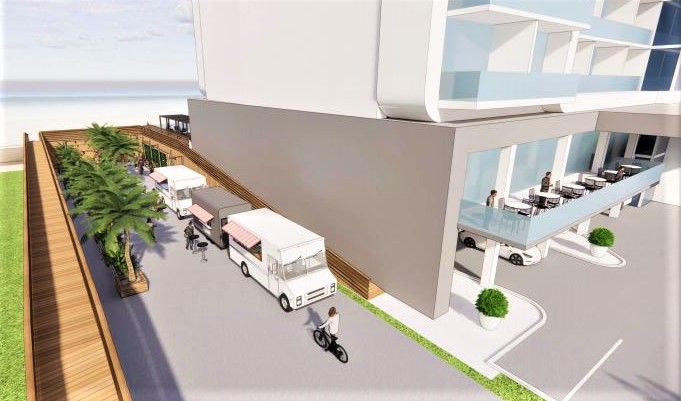 Plans submitted to Santa Rosa County show the developer wants to use a required setback area to create additional parking. A rendition submitted to the county depicts that parking alley being utilized by food truck vendors.
Santa Rosa County Commissioners during their March 23 rezoning meeting will decide whether or not to reduce property setback lines for a Tennessee developer, who plans to build a 200-room dual hotel plus 34 privately owned condominiums on Navarre Beach.
"We don't need this crammed into a space that is obviously too narrow for what they want to build. They should adjust their plan to fit the zoning," said Sharon Gabreski, one of more than a dozen residents who wrote to the county about the issue.
Knoxville-based Navarre Beach Hotels, LLC in December 2021 purchased three adjoining parcels, totaling 3.29 acres, at 8459 Gulf Boulevard, paying $1.8 million. The acreage features one high-density parcel and two commercial parcels, including the sites of a former restaurant and 6-story condominium which were destroyed by Hurricane Ivan in 2004.
Now the developer is asking the county to reduce required setbacks on the east side of the properties from 20 feet to 5 feet to allow them to utilize the area for additional parking.
Opponents argue that granting the requested variance would allow the developer to add around 40 additional parking spots, enabling a higher density development without the normal public variance process.
"Shifting parking in this fashion allows you to get more units on the commercial lot," said Navarre Beach business owner Tamara Fountain. "This is a blatant back-door attempt to maximize parking by shifting it to the lots to the east to qualify for maximum density on the commercial piece."
The county's zoning board, an advisory council which makes recommendations to the Board of County Commissioners, was tied 3-3 during their March 9 meeting on whether or not to recommend supporting the variance, which is located within the Navarre Beach Commercial Zoning District. However, Zoning Board Member Tracy Bragg was absent due to a family emergency and had intended to oppose granting it.
The commission's rezoning meeting will take place at 5 p.m., Thursday, March 23 at the County Administrative Complex, located at 6495 Caroline Street in Milton.