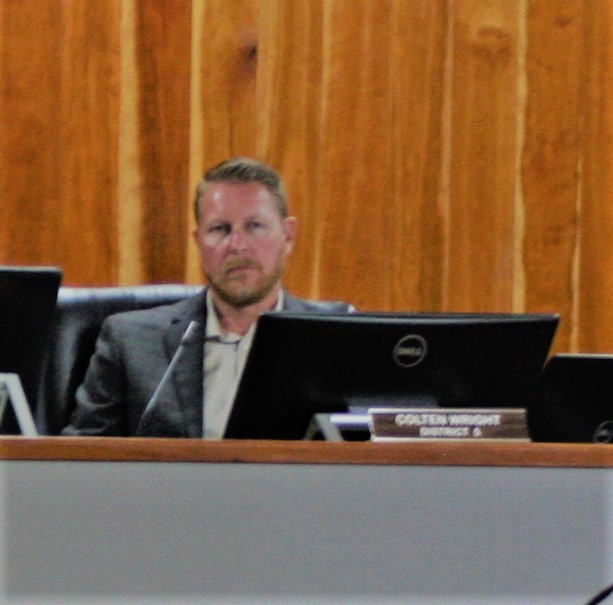 Santa Rosa County District 5 Commissioner Colten Wright and District 3 Commissioner James Calkins got into a verbal altercation during the board's July 27 meeting. Chairman Dave Piech called a recess to help diffuse the argument, which was quickly resolved.
The infighting started when Wright made a motion to ban personal cell phone use during meetings.
Piech reminded the board that such a policy would not be enforceable.
Ultimately Wright got no support from his fellow commissioners, so the motion died for lack of a second. But not before a tense encounter.
Wright said his suggestion was aimed for transparency, although Board Attorney Greg Stewart clarified at the end of the discussion that all commissioners' electronic communication related to any county business is subject to Sunshine Law – regardless of whether it takes place on a personal or county-issued device.
Calkins expressed frustration, calling Wright's attempt an example of what causes unnecessarily long commission meetings.
"This is my personal electronic device, and I will use it, whether this passes or not, because you politicians didn't hire me. The people did. That's who I work for," said Calkins, who accused Wright of bringing up the ban on devices after he had used a Decibel Meter on his cell phone to show how the county's newly enacted noise ordinance makes normal conversation illegal.
Calkins then suggested Wright start "paying attention to the citizens" and began listing off times Wright "ignored" the community, such as the closure of Holley Point Boat Ramp to benefit two adjacent private landowners and code enforcement addressing a family's mulch pile.
Piech told Calkins not to "rehash" mulch piles and stay focused on the discussion about device use.
"I haven't said my peace. You're trying to shut me down," Calkins said, adding that Wright had "sent code enforcement to fine my church."
At that point Piech called a recess.
Following the break, Calkins again confronted Wright about whether or not he had called code enforcement on his church (Midway Baptist).
Wright said he was "I'm not going to tolerate (this)."
"You don't use your position of power to try to control people. You going after my church that I attend is wrong," Calkins said. "Did you tell code enforcement to fine my church."
Piech interrupted. "We are not up here to battle between each other."
At that point the board moved on to address other agenda items.