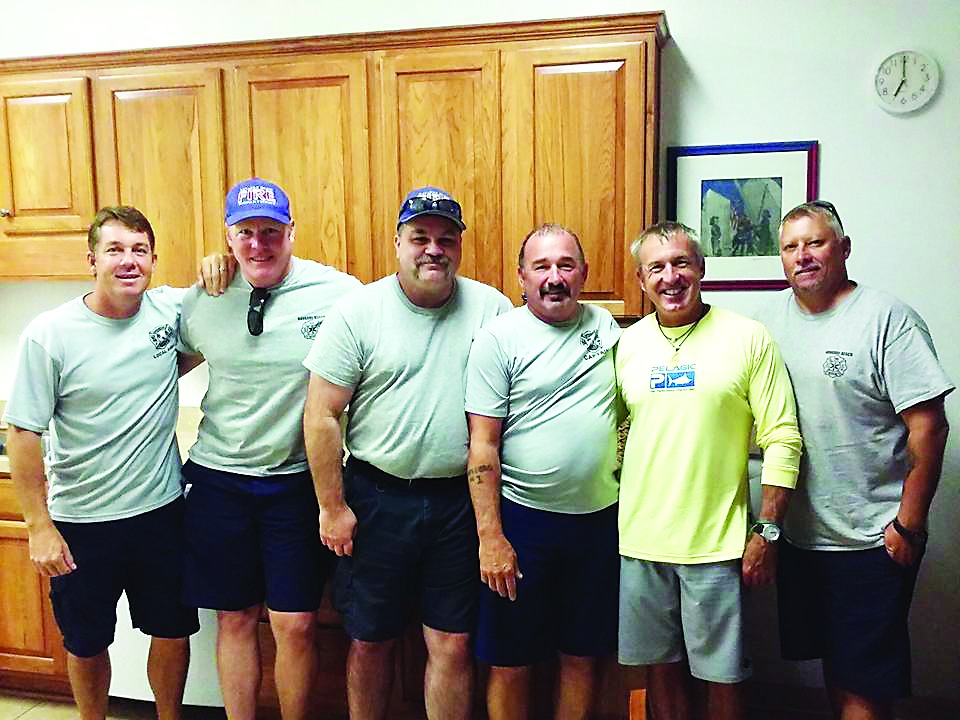 Firefighters and the local community are coming together Saturday to help raise money and the spirits of a Navarre Beach firefighter who was diagnosed with a severe brain infection shortly after responding to a cardiac arrest call.
Chris Jines, who is a fresh face to the Navarre Beach Fire Department, has only been on staff at the department for about a year and serves on NBFD Capt. Danny Fureigh's shift. Although he's a fresh face to the department, Fureigh and Jines go back a long ways.
"We've been friends for almost 30 years," Fureigh said. "I grew up with him and his brother. He's like a brother to me."
So when the 42-year-old firefighter was diagnosed with a severe brain infection in November and hospitalized, Fureigh and the rest of the NBFD crew stepped up to help Jines and his family cope during the difficult diagnoses.
In Early November, Jines responded to a cardiac arrest call and performed CPR on the patient. Unfortunately, despite his effort, Jines was unable to save the patient's life. Shortly after the call, the firefighter started suffering from severe headaches.
He later went to an area emergency room where he was diagnosed with a severe case of encephalitis, a viral brain infection.
Although his brain injury can't be pinpointed to that cardiac arrest call in November, the department and his family believes that's where he could have contracted it from.
"It's not that the patient would have had it (encephalitis). He would have had a viral infection. The infection is extremely rare, Fureigh said.
For several weeks following his diagnosis, Jines was bed bound at a local hospital. He was most recently sent home where he is receiving home health care.
"He's still receiving viral medicine twice a day and home health once a day," Fureigh said. "He is extremely confused. He has short term memory loss. He's just really lethargic."
Since his diagnoses last month, the NBFD has stepped up to not only raise funds from him, but to also make sure he gets a paycheck at the end of the day.
"We have firefighters picking up his shift to make sure he gets his paycheck. It's just difficult for him now, especially during the holiday season," Fureigh said.
Fureigh created a GoFundMe page for Jines, which has already raised well over $4,700. This weekend, the department and Juana's Pagodas on Navarre Beach is hosting a benefit for Jines along with a silent auction to help offset some of the medical costs on Sunday from noon to 4 p.m.
"Our deputy chief has donated food. Whatever donations we receive Saturday will go directly to the family," Fureigh said.
Some of the bigger items at the silent auction include beach hotel stays and a brand new AR-15, which was donated by a local.
"We've got 8 or 9 large items we are raffling off. We are also doing haircuts, food baskets, you name it. Every 30 minutes we will be raffling something off," Fureigh said.
The fire captain said right now it's too early to tell if Jines will fully recover from the injury, but said the department is behind him, and will continue to be behind him through every step of the journey.
The Navarre Beach Leaseholders Association, Inc. donated $1,000 to Jines' family on Tuesday, and the donations have continued to pour in for the firefighter.
"His family is just completely baffled by the support from the community," Fureigh said. "They are just overwhelmed. His wife is in the last leg of RN school, so she's having to deal with this on top of school, so it's very hard on her."
Jines also has two children at home.
"Anytime you're dealing with a brain injury or brain inflammation, the only factor you have is time. Today he could turn around and be completely responsive. It's so hard to say. We'll take it day by day," Fureigh said.