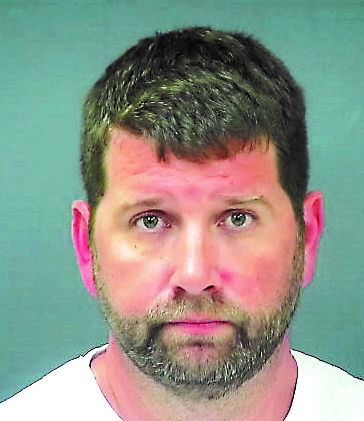 Santa Rosa County Sheriff's Office is searching for a Gulf Breeze resident who has serious child abuse charges pending against him after a male juvenile told police the man repeatedly sexually abused him at the suspect's home.
Suspect Christopher Jason Traffanstead, 39, with a last known address in the 2500 block of Abbie Elizabeth Court, is being sought by investigators on two first-degree felony counts of Sexual Assault and one second-degree felony count of Lewd and Lascivious Behavior.
Back on March 31, the victim in the case contacted the local sheriff's office and notified them of abuse allegations which, according to the warrant report, include sodomy. The report also states the suspect is accused of handcuffing the juvenile to a bed frame.
Over the last month, investigators at the sheriff's office have been collecting enough evidence to charge Traffanstead with the alleged abuse. A search warrant was served Tuesday on Traffanstead's home and evidence pertaining to the alleged abuse was taken from the home and put into evidence.
Sgt. Rich Aloy, SRSO spokesman, said the victim's accounts of the alleged abuse and the evidence found at the home are "very graphic."
"It's one of the toughest reports to read without getting emotional," Aloy said.
According to the report, the abuse occurred when the victim was left with the suspect, who allegedly used a phone app to track another adult's location.
Traffanstead is accused of feeding the victim "candy things" that made the juvenile feel dizzy and lightheaded.
The report indicated that the suspect allegedly used sex toys and lubricants to abuse the juvenile and includes graphic details of incidents involving sodomy.
Traffanstead is being accused of putting his hands and mouth on the victim's genitals.
According to the report, the victim told an investigator he was beaten if he "refused to kiss Jason and 'stuff like that'," alleging the suspect placed him in an ice bath for a "few hours" to conceal physical abuse and at times would not allow the juvenile to participate in public activities until signs of physical abuse healed.
According to Santa Rosa County Clerk of Court records, Traffanstead was charged with Battery late last year and sentenced to one year of probation. The warrant report states Traffenstead was arrested Oct. 31, 2015 on a charge of child abuse.
SRSO is still searching for Traffanstead, who is 6'1" and weighs approximately 235 pounds.
Anyone with information on the Traffanstead's whereabouts are urged to call CrimeStoppers at (850) 437-STOP.