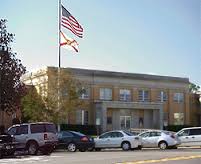 Santa Rosa County Commissioners during this morning's planning workshop decided to allocate surplus money toward financing construction of a new county courthouse instead of asking voters to support an additional local option sales tax.
Commissioners first discussed how much of the county's $34.1 million unassigned general fund or "reserve" balance should be retained before they later decided to finance the roughly $30-million courthouse project slated for Avalon Boulevard in Milton.
Jayne Bell, county budget director, noted during the workshop that revenues continue to climb.
According to Bell, a local option sales tax which started in 2017 generated $5 million. "Revenue exceeded the budget by $1.3 million," Bell said of fiscal year 2017, which ended in October.
"We do have excess reserves at this point," said District 5 Commissioner Lane Lynchard, who said he would support keeping a $20-million reserve balance, pointing out it would provide for three months' operating expense in the event of a natural disaster.
District 3 Commissioner Don Salter said he agreed with Lynchard. "Don't ever forget Hurricane Ivan. I agree that three-month minimum is the appropriate level."
The board was in consensus on retaining a $20-million reserve, leaving a $14.1-million balance.
District 4 Commissioner Rob Williamson said he did not feel it would be "prudent" to ask taxpayers to fund an additional local option sales tax to fund courthouse construction, considering the surplus.
Commission Chairman Bob Cole said he was "very excited" about the possibility of not having to ask taxpayers to support a referendum to fund the roughly $30-million project.
According to Schebler, the annual debt service if funding the entire $30-million project would be $1.8 million per year.
Salter pointed out that annual cost would be reduced by applying some of the surplus funds toward that.
Staff was subsequently directed to move forward with the design-build effort and it is expected that an proposed RFQ for the project will be presented for board approval in April.