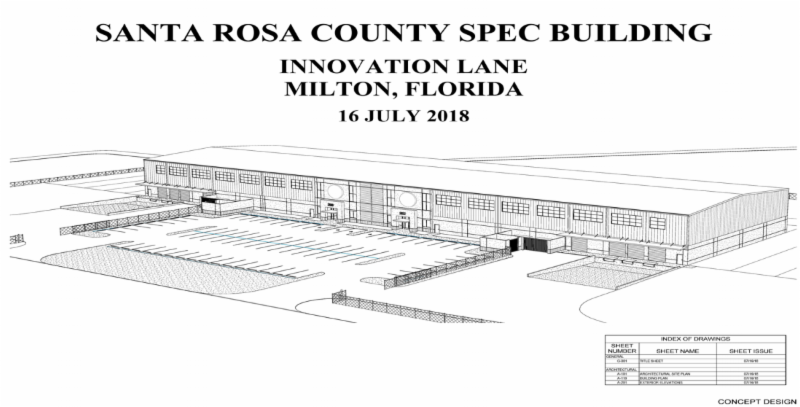 The Santa Rosa County Board of County Commissioners last week directed to advertise a request for proposals (RFP) for the construction of a 50,000 sq. ft. spec building in the Northwest Industrial Park at I-10. The move is aimed to attract more industry to the county.
"One of the key insights we have learned is that due to lack of quality, large industrial space, many companies/site selectors are not considering Santa Rosa County," said Shannon Ogletree, economic development director. "Additional product is needed to separate us from other counties located in northwest Florida, south Alabama, and other areas of the southeast and the construction of a 50,000 sq. ft. facility will be part of that separation factor."
The "Building a Better Santa Rosa County" strategic plan from Garner Economics recommended construction of an industrial shell building, no less than 50,000 sq. ft. and expandable to 100,000 sq. ft. with ceiling height of no less than 32 ft. This design would allow for distribution/logistics firms to stack pallets and with proper design, the building would be multi-functional to crossover to different industry sectors.
Staff will advertise an RFP for a developer to construct a building of this type, backstopping the lease payment of five to seven years if no tenant is found to occupy the facility. Funding will come from the county's economic development franchise fee. For more information, contact
Shannon Ogletree
, 850-623-0174.