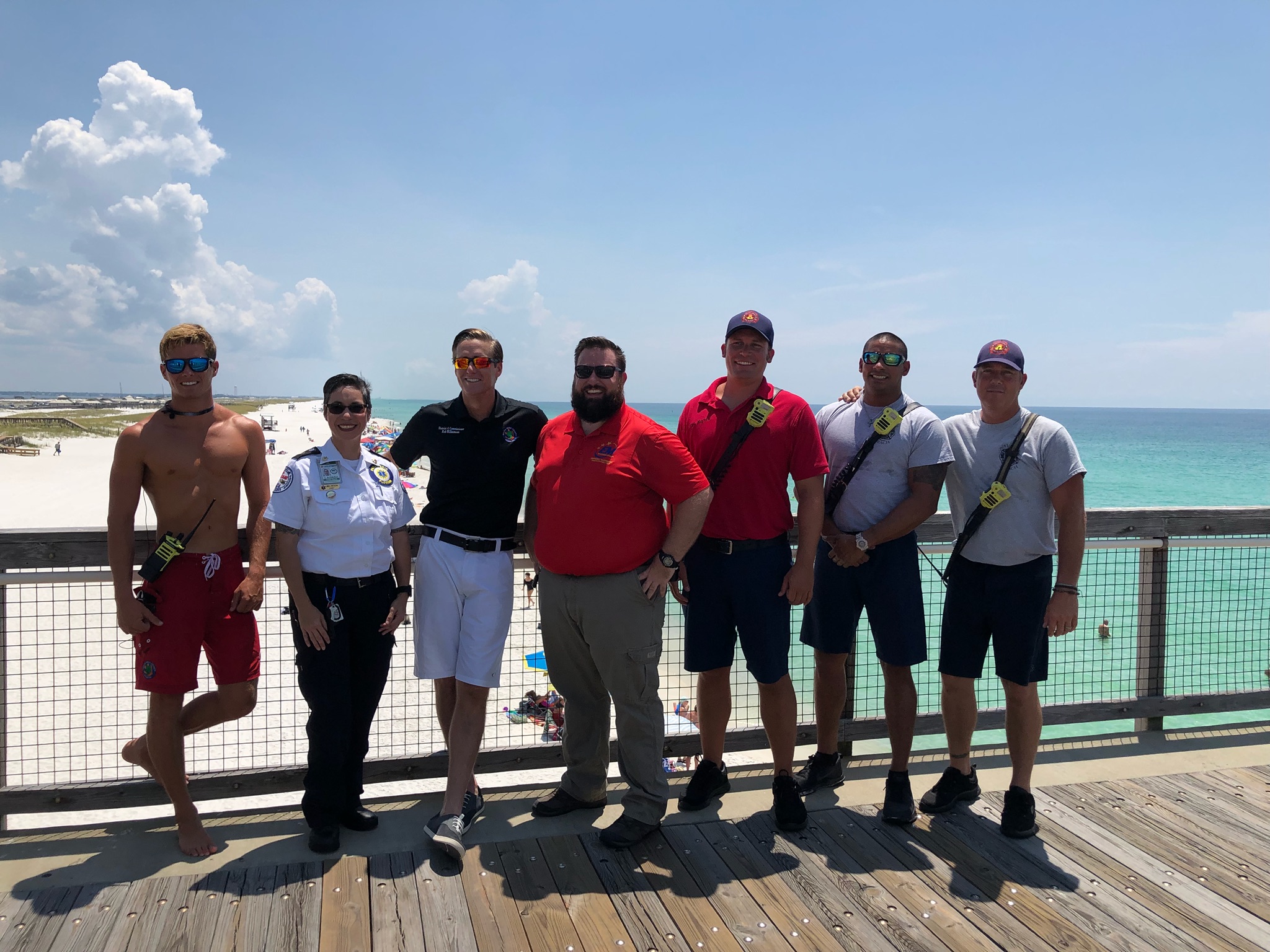 Santa Rosa County public safety officials have been working on a potential merger of Navarre Beach Fire Rescue and county life guard operations (photo courtesy Santa Rosa County Emergency Management).
Navarre Beach Fire Rescue Chief Danny Fureigh this week submitted a proposal to Santa Rosa County, seeking for his department to take over life guard operations at Navarre Beach.
During a July 18 budget workshop for fiscal year 2019, which starts October 1, County Administrator Dan Schebler said the idea has been discussed for several years but the merger is "pretty close" to being ready to present to county commissioners.
Fureigh plans to officially present the plan to commissioners in August. "We have a tremendous amount of small details to work out but we feel confident this will be a good foundation," Fureigh told South Santa Rosa News on Wednesday.
According to Schebler, there would be "no budget impact" for NBFR to take over water safety.
Currently Santa Rosa County funds five lifeguard towers on Navarre Beach stationed near Navarre Beach Fishing Pier eastward into Navarre Beach Marine Park.
"Since (NBFR) provides emergency response to this area as well as all of the county's Gulf of Mexico beach front, both in and out of season, it makes sense that to enhance cohesive agency response that the county's lifeguard program should fall under the operational responsibility of the NBFR thus implementing a new water safety program for Navarre Beach," stated Fureigh in the proposal.
Fureigh said the department recommends establishment of a NBFR Beach Safety Division under the control of a Beach Safety Director who would be paid a salary of $40,000 per year.
Coverage area would be expanded from roughly 0.7 miles to 1.25 miles of shoreline.
Hours of life guard operations would also be adjusted to ensure staffing during hours with the largest concentrations of people, specifically 10 lifeguards from 9 a.m. – 7 p.m. from Memorial Day until Labor Day and five lifeguards from 9 a.m. – 5 p.m. during the off season. The Beach Safety Director would have the discretion to adjust hours as needed.
NBFR is requesting $231,418.23 for staffing, $4710 for uniforms and $16,900 for capital equipment, including a waverunner, sled and trailers.
The total budget request for the merger and capital equipment would be $299,500, which is "fairly close" to what the county pays now to provide the service.
Other strategies outlined in the proposal include: public education about potential hazards, promoting safe behavior at lifeguard towers, maintaining and system to recognize and respond effectively to emergencies and preparing to treat and evacuate injured people in a professional and expeditious manner.
Additionally, Fureigh said NBFR will obtain Open Water Lifeguard Agency Certification through the United States Lifesaving Association.
Fureigh also plans partnerships, including working with the Navarre Beach Marine Science Station.
"Many lifeguard agencies throughout the United States sponsor junior lifeguard programs. These programs are typically well received in the local community, exposing youth to beach safety information and a taste of what it is like to be a lifeguard. Junior lifeguards provide an excellent potential resource for future employed lifeguards."
Toward that end he plans to work with NBMSS to incorporate a component to their summer camp curriculum.
Longtime local beachgoers are praising the move. "I think it's great," said Brenda Stokes, who has surfed in the area for more than 50 years and worked as a lifeguard at Navarre Beach for two years in the early 1970s. Stokes said she plans to ask commissioners to support the merger.