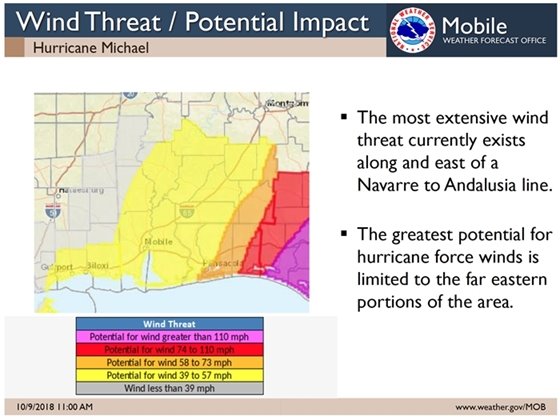 Hurricane Michael Update #3
Storm Information as Forecasted by the National Weather Service
Santa Rosa County remains under a hurricane warning and storm surge watch.
Michael has strengthened to a Category 2 hurricane and is forecast to be a major, Category 3 hurricane prior to landfall.
Confidence is increasing in a landfall in the vicinity of Panama City, but still could be anywhere from Destin to Apalachicola.
If the forecast track holds, the potential for hurricane conditions will be limited to areas east of Navarre.
Tropical Storm conditions (at least in frequent gusts) are likely west to Pensacola in the outer rain bands.
A high risk of rip currents and dangerous surf will impact the coast through Thurs.
For more information, visit www.nhc.noaa.gov/#michael.
Actions Taken by Santa Rosa County
Santa Rosa County Emergency Operations Center is currently at a Level 2 (essential personnel) and will activate at Level 1 (all ESFs – Emergency Support Functions) Tues. at 1:30 p.m.
The Santa Rosa Commission approved a Local State of Emergency at 9 a.m. on Mon., Oct. 8. A local state of emergency allows for the county to request assistance if needed and gives staff the approval to activate emergency plans without going through a formal board approval process.
Emergency management staff will be monitoring conditions overnight.
Public works crews have implemented their storm preparation protocol which includes fueling of equipment, stocking vehicles, placing employees on standby for after-hours road clearing, staging equipment, and clearing of culverts, grates and any known blocked drainage features.
The tolls for Garcon Point Bridge have been lifted until further notice.
Evacuations and shelters
While Santa Rosa County is not forecast to receive any significant flooding or storm surge, the county is forecast to receive tropical storm force winds. Sustained tropical storm force winds could require the closure of some bridges including the Navarre Causeway. Thus, residents of mobile homes, in campers or at campsites or in low-lying areas as well as Navarre Beach are recommended to evacuate. A recommended evacuation is a request for evacuation.This is not a mandatory evacuation.
Residents in those areas are encouraged to seek refuge on their own initiative and independently find accommodations in a safe area.
Residents who choose to evacuate are reminded that you need not travel outside the county. It is often easier to shelter with family or friends who live outside the called evacuation zones, a hotel or a public shelter.
The Milton Community Center, located at 5629 Byrom Street in Milton, will open at 1 p.m. on Tues. for evacuees. This facility is pet-friendly and also equipped to accommodate those with special needs. Pet owners must stay with their pets. Those with special needs must come with their own caregiver. Pet owners and special needs residents should be registered with Santa Rosa County.
Bring the following supplies with you to the shelter:
Wallet/purse (including personal identification
House and car keys
Eyeglasses
Medications
Proper clothing
Family pet(s)
Three days' worth of personal supplies to meet individual needs of your family and pet(s).
Toiletries and personal items.
Blankets or sleeping bags.
Games or toys for children; books for adults.
Special items for infants or elderly family members.
Any special dietary needs.
Food and water for the first 24 hours
Shelters are opened to ensure your safety. Remember they are crowded and usually uncomfortable. It is recommended that other arrangements be made to stay at a hotel or with a friends or family in a well-constructed home out of the evacuation area that is properly protected to withstand hurricane force winds.
Anyone needing transportation assistance to a shelter, call (850) 983-4636. We will only provide transportation to a designated shelter.
CLOSURES
Santa Rosa County Offices and Services
Santa Rosa County BOCC, Clerk of Court, Tax Collector, Property Appraiser and Supervisor of Elections offices will close at noon Tues. and remain closed Wed. Offices will reopen Thurs.
The BOCC Regular Meeting which had been scheduled for Wed., Oct. 10 has been cancelled.
Lifeguards will work normal shift until 6 p.m. today (Tues.) unless conditions deteriorate. Lifeguards will not be on the beach Wed., Oct. 10.
Libraries are closed Tues., Oct. 9 and Wed., Oct. 10.
Animal Shelter drop boxes will closed at noon Tues., Oct. 9 through Wed., Oct. 10

Building inspections will be delayed this week. Most inspections today will be carried over. All inspections will be suspended Wed., Oct. 10. Delays are still likely through the end of the week.

Central Landfill will close at 5 p.m. Tues., Oct. 9 and remain closed Wed., Oct. 10.
The Transportation Disadvantaged program has been suspended for Wed., Oct. 10. Service will resume on Thurs., Oct. 11. For additional information, contact Santa Rosa Transportation, 850-626-6806.

The Navarre Pier will be closed Wed., Oct. 10. The pier is open today, Tues., Oct. 9 so long as weather conditions do not deteriorate.
Waste Pro
Navarre – Collection services have been suspended for Wed., Oct. 10. Services will resume Thurs., Oct. 11. If your garbage is normally serviced on Wed. you will be serviced Sat. Recycling and yard waste collection will run one day behind. Wed. will be service on Thurs., Thurs. serviced on Fri. and Fri. serviced on Sat.
Gulf Breeze – Collection services have been suspended for Wed., Oct. 10 and will resume Thurs., Oct. 11. All collections will run one day behind for the remainder of the week.
Offices will reopen Thurs., Oct. 11; call 850-365-1900 with any questions.
Courts
State courts in Escambia, Santa Rosa, Okaloosa and Walton Counties will be closed at noon on Tues., Oct. 9 and will remain closed Wed., Oct. 10. Any further decisions regarding court operations on Thurs., Oct. 11, will be announced as soon as possible.
First Appearances set for Oct. 10 will be held at 7:30 a.m. at the Santa Rosa County Jail.
Any detention or shelter hearings set for Oct. 10 will be conducted in Escambia County in conjunction with the Escambia County hearings.
Domestic violence Injunction hearings set for Oct. 10 are rescheduled to Oct. 17.
VOP hearings before Judge Hilliard set for Oct. 9 are rescheduled to Oct. 24 at 2:30 p.m.
Misdemeanor arraignments set before Judge Giraud on Oct. 9 are rescheduled to Oct. 30 at 1 p.m.
VOP hearings before Judge Giraud set for Oct. 10 are rescheduled to Oct. 31 at 8:30 a.m.
Docket day before Judge Giraud set for Oct. 10 is rescheduled to Oct. 17 at 1:30 p.m.
The truancy docket before Judge Ross Goodman set for Oct. 10 is rescheduled to Nov. 7 at 3 p.m.

Criminal motion hearings before Judge Rimmer set for Oct. 10 are rescheduled to Oct. 15.

For further updates, follow the First Circuit at https://twitter.com/1stCircuitFLor @1stCircuitFL or visit www.firstjudicialcircuit.org.
City of Milton
City of Milton offices will be closed at noon Tues. for non-essential personnel and remain closed Wed. Offices will reopen Thurs.
Tuesday's regularly scheduled city council meeting has been rescheduled for 3 p.m.
City garbage services will discontinue at noon Tues. and resume Thurs. normal schedule.
Supervisor of Elections
The Santa Rosa County Supervisor of Elections Office closed at 12 p.m. today, Oct. 9. The closure will affect the voter registration deadline. In Florida, registration books close 29 days prior to an election.
Due to the office closing early, paper voter registration applications for the 2018 General Election will be accepted on the next full business day the office is open.
Voter registration applications can be summited online at www.votesantarosa.com. The deadline to accept online voter registration applications will remain 11:59 p.m. October 9.
Address changes can be made after the books close. If you are unsure of your registration status, visit VoteSantaRosa.com and click on "My Registration Status."
Early Voting begins October 22 in Santa Rosa County.
Questions? Call the Elections Office at 983-1900.
Santa Rosa Public Schools
District schools and offices will be closed on Tues., Oct. 9 and Wed., Oct. 10. A decision regarding school-related afternoon and evening activities for Wed. will be made during the day on Wed.
A decision on school operation for Thurs., Oct. 11 will be announced on Wed.
Monitor the district website and local media outlets for updates, as any change to the current forecast track will necessitate changes to the current plan of action.
Pensacola State College
PSC closed at noon on Tues., Oct. 9, and remain closed through Wed., Oct. 10. This closure includes all classes, evening classes, school activities, and online classes.

PSC is scheduled to resume normal operational hours on Thurs., Oct. 11. If that should change, students, faculty, and staff will be notified through the PSC Alert System, social media, PSC website, and local media.
Council on Aging of West Florida
COAWF will suspend all services Wed., Oct. 10 including:
All senior dining sites in Escambia and Santa Rosa counties will be closed Wednesday.
The Retreat adult day care will be closed Wednesday.
Foster Grandparents and Senior Companions will not report to their schools or client homes Wednesday.
Meals on Wheels will not be delivered on Wednesday, but will be delivered on Thursday. Clients scheduled for Wednesday delivery will be notified about the delivery change.
The main Council on Aging office will be closed Wednesday, though the agency's answering service will remain in operation, able to note questions and needs for service.
Gulf Islands National Seashore
Officials will begin shutdown procedures at the park's island units to all visitor use and access starting tonight, October 8, due to the potential impacts from Hurricane Michael.
The Fort Pickens, Perdido Key, Santa Rosa, and Okaloosa Areas will close tonight at their normal operating time, and will not reopen tomorrow. All campers in the park's Fort Pickens Campground have been ordered to evacuate by 7 p.m. tonight, October 8.
The Fort Barrancas and Naval Live Oaks Areas will remain on their normal operating schedules at this time, but their status may change with conditions.
Florida Forestry Service
Florida Forest Service offices, recreation and day-use areas in Escambia, Santa Rosa and Okaloosa counties will be closed through Thursday.
Department of Health in Santa Rosa County
Locations closed at noon today and will remain closed through Wed., Oct. 10. The closure includes all DOH-Santa Rosa clinics as well as the Pro Med Dental clinics in Milton and Midway. Services are scheduled to resume at their regular times on Thurs., Oct. 11.
Call the Milton location at 850-983-5200 on Thurs. to reschedule clinic appointments. To reschedule dental appointments, 850-564-2248.
Sacred Heart Clinic inside the Walgreens location in Navarre will be closed Tuesday.
Sand
Santa Rosa County has sand available at several locations. Residents should bring shovels to fill and load their own bags. Sand bags are available at Lowe's for a nominal fee. Sand is available at:
Pine Forest and Carroll in Milton
Citrus and Leisure in Navarre
Tiger Point Park in Gulf Breeze
Pace Fire Rescue in Pace
Road Closures/Traffic Conditions
Choctaw Field Rd. has closed beginning at the beginning of the dirt road portion due to anticipated tropical storm surge. It will remain closed until future notice.
Heavy rain may quickly flood low-lying areas including roads and bridges.
Standing water creates a serious road hazard, even when only a portion of the roadway is flooded. Turn around, don't drown!
Dangerous road conditions can be reported to (850) 983-5372.
Bridges will be closed by law enforcement or FDOT at the onset of sustained tropical storm force winds of 39 mph. BRIDGES ARE NOT CLOSED IN ADVANCE.
County road and bridge closures are posted online.
Florida road closures are available at www.fl511.com or a free phone call to 511.
FDOT has suspended interstate and highway maintenance and construction indefinitely to allow for an increase in traffic as motorists evacuate from the northwest Florida coastline area. All rail, transit and seaport facilities are functioning as normal. Presently, no bridges are closed due to the storm and bridge inspection crews are on standby for any potential inspections.
FDOT will assist first responders with traffic control, detours or road closures, but the department will suspend emergency response activities if Hurricane Michael's sustained winds reach tropical storm force of 45 mph or higher. Once conditions improve, crews will go back to working around the clock to clear all roadways.
Power Outages
Please do not call 9-1-1 to report power outages. Power outages should be reported to Gulf Power at 1-800-GU-Power (1-800-487-6937) or Escambia River Cooperative, Inc. at 1-877-OUT-EREC (1-877-688-3732).
If you evacuate, shut off your electricity at the breaker box.
Do not use a landline or run water during lightning storms. Do not take a bath or shower. Currents from lightning can enter through plumbing or water lines.
Unplug sensitive electronic appliances to protect them against power fluctuations that can occur when power is restored.
Wait five to 10 minutes before turning on appliances and heating/air conditioning systems after power is restored.
Check for electrical damage such as frayed wires, downed power lines, sparks or the smell of hot or burned insulation. If you find such damage, don't turn your power on until service crews have made repairs.
If power lines and poles are down in your yard or in the street, always treat them as if they were energized.
An electrician must repair damage inside your house. Your electric utility can only hook up power from the pole or underground line to your home. Utility personnel cannot repair your fuse or breaker box, or make other repairs inside your home.
If your electric service is out, check with your neighbors to see if they have power. If they do, you may have a blown fuse or tripped breaker. Never replace a fuse or reset a breaker with wet hands or while standing on a wet (or even damp) surface.
Helping line crews is appreciated, but working with power lines and electricity requires a high degree of training. To restore power with the highest degree of safety, restoration must be accomplished in a certain order, using specific equipment and procedures. Workers will appreciate your patience and understanding.
Reporting Damage
Residents with storm damage can report damage online including submitting photos at www.santarosa.fl.gov or by calling (850) 983-4636.
Steps Residents Should Take (these should be completed by the end of the day)
Review your family disaster plan. Don't forget special plans for elderly, handicapped, children and pets.
Turn off any automatic sprinkler systems and do not water your lawn until the storm passes.
Know your evacuation zone. Remember, evacuation zones are now A-E. Use the interactive evacuation zone tool found at www.santarosa.fl.gov/KnowYourZone by typing in your address to see what zone you live in.
Make plans to secure your property. Check for, fix or remove loose items on your structures/homes. Be sure trees and shrubs around your home are well trimmed. Clear loose and clogged rain gutters and down spouts.
Fill vehicle gas tank.
Get cash and secure important papers and valuables.
Refill medications.
Shutter your windows.
Prepare boats.
Help neighbors with their preparations.
Make final preparations to secure your home so you can leave if an evacuation order is issued.
Make sure your hurricane kit contains non-perishable food, water, medications for three to five days for each family member and pet.
Know what low-lying areas near your home are subject to flooding such as creeks, drainage channels, streams and bayous.
Santa Rosa County Division of Emergency Management's latest all-hazards disaster guide is available online at www.santarosa.fl.gov.
General Disaster Information
www.facebook.com/SRCEmergencyManagement or follow on Twitter @SRCBOCC
Monitor local media outlets and official weather sources for the most up-to-date information on the storm track.
Your best defense in any disaster is a NOAA Weather radio.
Residents are encouraged to subscribe to AlertSantaRosa.com for emergency updates, including possible road and bridge closures.
Citizen Information Line
The Citizens Information Line is open for questions: (850) 983-INFO (4636).