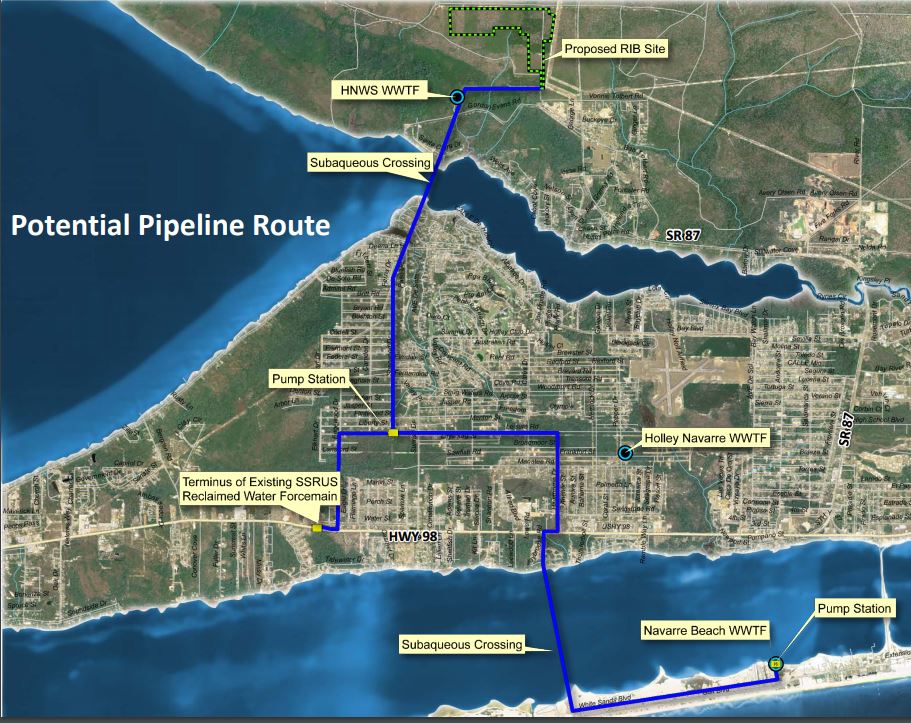 Santa Rosa County Commissioners this week will discuss approving $12,600 to appraise a proposed 200-acre site on Eglin Air Force Base property which would be used as a future effluent disposal area.
The proposed rapid infiltration basin system (RIBS) site is located northwest of the Holley community on undeveloped property lying south of Choctaw Field Road.
Sources say the current plan would leave the wastewater treatment plant on Navarre Beach but instead of discharging treated wastewater into Santa Rosa Sound, the discharge would be piped to the proposed RIBS location.
The plan would include construction of a pipeline for transporting treated wastewater which require two underwater crossings.
The provided graphic depicts those crossings from the current wastewater treatment on Navarre Beach across Santa Rosa Sound to the vicinity of Joybrook Road and again from the Robedal Estates neighborhood across East Bay near Miller's Point in the vicinity of Santa Clara Drive.
According to agenda supporting documentation, since the late 1990s Santa Rosa County has been pursuing the goal of removing the Navarre Beach wastewater treatment plant treated effluent discharge from Santa Rosa Sound and developing an alternative disposal method.
In 2001 the Santa Rosa County Board of County Commissioners approved the concept to eliminate the Sound discharge and re-direct the treated effluent to a regional effluent disposal area on 200-acres of Eglin AFB. The BOCC contracted with the CH2M firm to develop the conceptual plan, preliminary design, routing alternatives, wastewater treatment plant upgrades, and assist the County in obtaining approvals from Department of the Air Force and Eglin AFB.
A FONSl/FNPA was issued by the Air Force and approval was obtained from Eglin's Base Encroachment Committee. The Florida Department of Environmental Protection (FDEP) issued a permit for construction of the 200-acre RIBS project on Eglin, which was renewed in September 2015.
Amendments to the current CH2MHill task order includes updating the environmental assessments at the RIBs site; updating the alternatives analysis for the reuse transmission mains and pump stations; preparing a 30-percent design summary of the RIBS, wastewater treatment facility upgrades, and the selected transmission system; and assisting with the lease negotiations.
CH2MHill received the $12,600 cost estimate from Eglin Real Estate for General Services Administration to perform an appraisal of the 200-acre land lease.
The county commission meeting will take place at 9 a.m., Monday, January 22 at the County Administrative Complex, located at 6495 Caroline Street in Milton. The meeting can also be viewed online via www.santarosa.fl.gov.