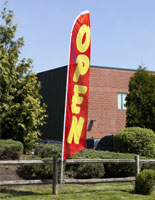 Caving to pressure from small business owners, Santa Rosa County Commissioners on Thursday plan to vote on a 180-day grace period for feather flags and refunds for citations issued for such usage.
County staff, at the behest of Santa Rosa County Commissioner Bob Cole, recently started taking a harder stance on enforcing sign regulations, issuing warnings and citations for snipe signs on public property and feather signs on private or public property.
"Don't blame staff," Cole said Monday. "Blame me."
Cole during the board's Monday committee meeting said his push was aimed at eyesores such as derelict boats and houses or tattered signs – not toward small businesses.
Navarre businessman James Dabney was one of several small business owners who complained to the board, arguing that feather flags are not distractions posing public safety issues. "Guys we need to work together," he said.
Eric Vines, owner of Cellular Nerd, told the board that despite generating $300,000 in revenues during his first year in business in Santa Rosa County he has considered relocating to another county because of sign enforcement.
"I didn't know the (rules). I felt slightly picked on by the county," Vines said.
Although Cole wanted the county to take immediate action to remedy the issue, the board decided to vote Thursday to increase the compliance period from within 30 to within 180 days and refund fines paid for feather flag citations.
"We are listening. We are hearing you," said Commissioner Don Salter, noting that revising the county's land development code, including signage regulation, is a process that is underway but takes months and will also includes community feedback, including input from those who may not favor allowing such signage.
"It's difficult to rewrite the (land development) code on the fly," stated County Attorney Roy Andrews.
If the proposed action is approved Thursday, business owners who have been cited will not only be able to continue using feather flags during the LDC amendment process but also can seek a refund for any related fines paid to the county.