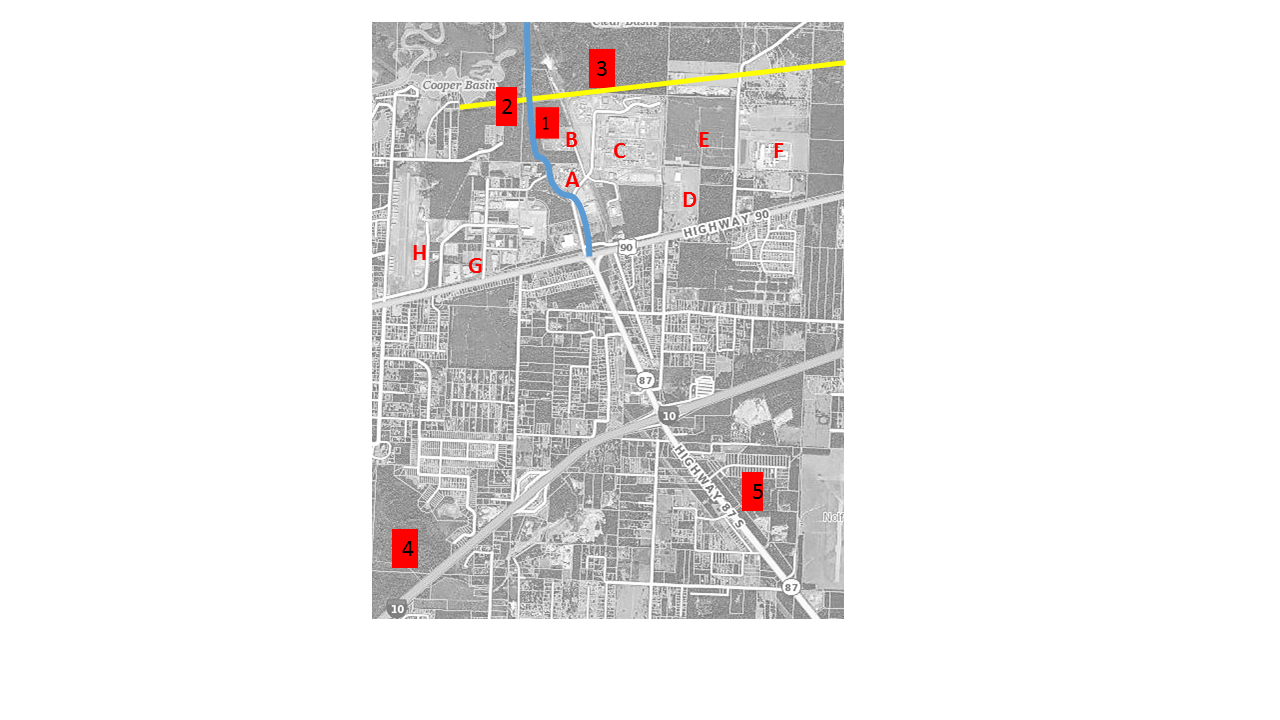 There are multiple undeveloped areas owned by Santa Rosa County near the intersection of Hwy. 87 S and U.S. 90 E — roughly one mile north of the Interstate 10 exit. Some of the property has been used for the county jail and park/industrial land (those sites are noted below).
COLOR KEY: Location of a planned major highway expansion by the Florida Department of Transportation which will connect Hwy. 87 S and Hwy 87 N depicted by the blue line (path could be adjusted). Also, the location of a major transmission line for power distribution is depicted by a the yellow line (property north of the power lines slopes toward Blackwater River and contains some wetlands).
UNDEVELOPED COUNTY-OWNED PROPERTY:
1. 113 acres purchased for $178,300 in 1995 (mostly undeveloped; surrounds a facility leased by Florida Dept. of Juvenile Justice)
2. 280 acres purchased for $1.52 million in 1999 (note – the area north of the power lines slopes toward the river, but areas south of the power lines are dry and wooded and surround two residences).
3. 302 acres which were part of $1.52 million purchase referenced in #2 above (property slopes toward Blackwater River and includes a small cemetery called Cooper Cemetery).
4. 192 acres deeded to the county in 2015
5. 88.5 acres purchased for $3.1 million in 2009 and set aside for industrial park land. Property has been vacant since purchased.
OTHER COUNTY PROPERTY OR AREA LANDMARKS:
A. Santa Rosa County Jail was built on a parcel purchased for $411,000 in 1995. A practice shooting range was constructed near the intersection of Judicial Boulevard, where former county commissioners had planned for the future county courthouse to be constructed. Additionally, included in the jail's parcel, is an additional roughly 20 acres located in an undeveloped, wooded area at the intersection of Hwy. 87 S and U.S. 90 E (see red "X" on inset map below).
B. Milton Girls Facility (state-run facility)
C. Santa Rosa Correctional Facility (state-run prison)
D. East Milton Ball Park (county-owned parcel of 68 acres purchased for $420,000 in 1998)
E. Santa Rosa County Fairgrounds (county-owned parcel of 140 acres purchased for $1.7 million in 2006)
F. Blackwater River Correctional Facility (privately run prison)
G. Santa Rosa Industrial Park (county-owned parcel of 324 acres purchased for $11,570 in 1978; includes airport, industrial land and the site of a former county landfill)
H. Peter Prince Airport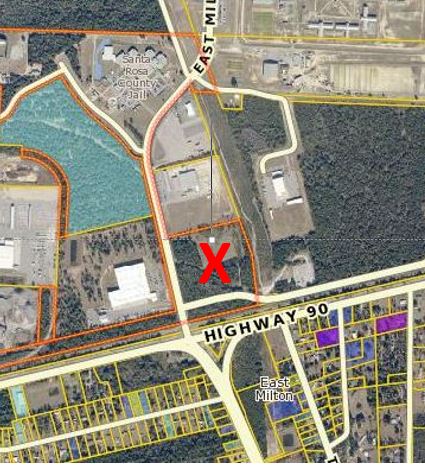 * This information contains data from several online sources, including the Santa Rosa County Property Appraiser's website. It is possible that some transactions may have been included in other parcel activity or not yet posted online. This graphic is presented to provide Santa Rosa County residents with a general idea of how much property Santa Rosa County owns in East Milton and how some of that land is being utilized.