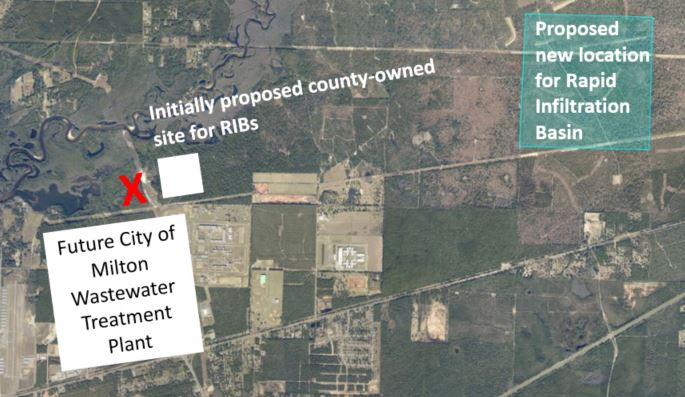 5,000 petitioners opposed the proposed new location to discharge treated effluent via a rapid infiltration basin system so close to Cooper Basin, a known breeding habitat for Gulf Sturgeon.
Santa Rosa County Commissioners are suggesting the City of Milton ask the state, not the county, for land on which to construct a rapid infiltration basin system for the discharge of treated effluent from its future wastewater treatment plant.
Following the discovery that it was no longer feasible to discharge treated effluent on land owned by NAS Whiting Field, Milton City Manager Randy Jorgensen on March 9 stated the city approached the county about constructing a rapid infiltration basin system (RIBS) on county-owned property adjacent to the military installation.
But after recently determining that option was no longer affordable, the city then re-approached the county about using a different county-owned parcel adjacent to the future plant site.
However, following the resignation of two City of Milton council members since March 18 and considering a petition signed by 5,000 people in just five days, opposing the newly proposed RIBS location, county commissioners this morning directed staff to the inform the city they had "second thoughts."
The new request for a RIBs locatioon was not on today's Santa Rosa County Commission agenda, but during the meeting's public forum it was revealed that County Administrator Dan Schebler had authorized the City to move forward with a survey of the second county property newly proposed for a RIBS.
"I have grave concerns about the transparency, honesty accountability and leadership in Milton," George Jordan told commissioners today, announcing he had resigned late yesterday from the Milton City Council. His resignation follows the resignation of Councilwoman Sharon Holley, who resigned March 18, citing an "ineffective" council.
District 1 Commissioner Sam Parker questioned how a February 13 groundbreaking ceremony for the future wastewater plant was scheduled, considering the change in plans for the plant's discharge of treated wastewater.
"Dan (Schebler), don't ever put me in that position at a county level. If everything isn't buttoned up, we don't need to move forward with it," Parker said.
Two days following the February 13 groundbreaking, bids for the wastewater treatment project were opened by city officials, and costs had skyrocketed.
City Manager Randy Jorgensen stated during a council meeting that the rise in costs were due to Hurricane Sally, COVID-19 and an overall rise in construction costs. Jorgensen went on to say NAS Whiting Field was no longer interested in receiving the city's treated effluent, stating the base was facing water quality issues of its own. However, he also stated the escalated cost of piping treated effluent to the Whiting Circle location had become infeasible.
Subsequently, city leaders approached the county about discharging future treated effluent on the county-owned property. But those discussions did not take place at a county commission meeting prior to today's unannounced discussions and related decisions.
Commissioners today also expressed concerns over not delaying the treatment plant project, considering no taps are currently being sold for new development on the city's existing system.
A meeting a planned for Friday between county and city officials, who are expected to further discuss District 2 Commissioner Bob Cole's suggestion for the city to approach the State of Florida about using a nearby 639-acre parcel located further away from Blackwater River.
"It's gone beyond an important issue it's gone to a crisis," said Cole.
Per its charter, the City of Milton has 60 days to appoint replacement for Council Members Holley and Jordan.