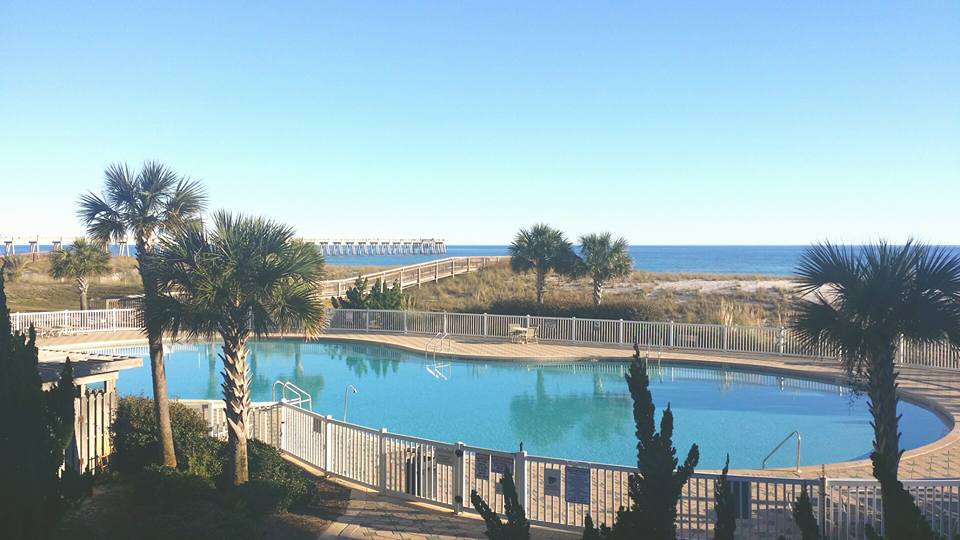 View from Beach Colony Resort on Navarre Beach (South Santa Rosa News files photo)
Santa Rosa County on Friday afternoon submitted to Florida Department of Business and Professional Regulation Secretary Halsey Beshears its plan for reopening short-term vacation rentals.
"Navarre Beach is the primary economic driver for Santa Rosa County tourism revenue. Aside from a single hotel on the beach, vacation home and condominium rentals generate the remaining tax dollars," said Dan Schebler, county administrator. "Our local economy has suffered greatly due to this ban as well as the continued loss of income that many rely on to pay mortgages and support local employment."
Santa Rosa County previously requested for Governor Ron DeSantis to allow short-term vacation rentals as part
of Phase 1.
"Today we are revisiting that request while providing a plan to reopen short term vacation rentals in a responsible and safe manner," Schebler said, pointing out such rentals offer do more to promote social distancing than hotels.
Santa Rosa County has proposed implementing the following additional measures to enable short-term vacation rental units to begin taking reservations and accepting check-ins the week of May 18:
Vacation rentals reservations and stays will be allowed from all U.S. states with a COVID-19 Case Rate less than 500 cases/100K residents as of May 14 https://www.cdc.gov/covid-data-tracker/index.html
Property owners and managers shall provide a report weekly to the Santa Rosa County Tourism Development Office (first report due 5/22/2020) which includes all reservations (arrival/departure dates) and home zip codes of renters.
Property owners and managers will provide COVID-19 guidance of any local restrictions that are in place during the guest stay and other related local information. The county has posted online all current information related to such restrictions so that it can be easily accessible to lodging operators and guests 24/7.
Property owners and managers will adhere to all Department of Business and Professional Regulation (DBPR) sanitation guidelines already in place as addressed under 61C-3.001 Sanitation and Safety Requirements of the transient lodging statutes.
Property owners and managers will follow the CDC related guidelines that are for public spaces, businesses, schools and homes which expand upon the State of Florida & DBPR requirements already in place for safety and sanitation for all lodging.
Lodging should be allowed flexible time between stays based upon the use of CDC cleaning and sanitization procedures. Lodging units being cleaned are all different and some will take more time or less time, depending upon the size of
the unit being sanitized.
Signage will be placed at each property highlighting the cleaning protocols between stays.
Property owners and managers should supply any and all employees or contractors with CDC-related safety guidance while operating in the short term rental industry units to alleviate the transmission of the virus and provide further protection for employees and guests.
Property owners and managers should supply guests with CDC guidance for guests traveling with pets and service/assistance animals if the property is pet friendly.
Property owners and managers should also share CDC resources to any guest while staying in their units. These resources are available in multiple languages at the CDC website.
The plan will be reviewed at least bi-weekly and updated as necessary, per SRC.
DeSantis on March 27 suspended short-term vacation rentals for two weeks and subsequently extended the order and received criticism for keeping open hotels during the pandemic.
After counties submit safety plans to DBPR, if they are accepted, DeSantis is expected to quickly reopen the respective short-term vacation rentals as long as each county's plan has provisions to prevent rentals to visitors from areas with high rates of COVID-19 without 14-day self-quarantine stipulations.