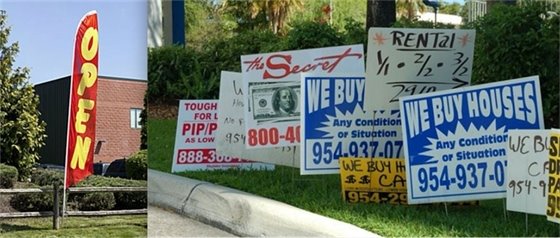 Illegal feather flag (left) and snipe signs (right) on county right-of-way
Santa Rosa County on Tuesday sent out a request for locals to abide by county sign ordinances.
Land Development Code (Article 8) prohibits the use of snipe signs on public property or feather flags on private property.
Per county officials, Santa Rosa County's code enforcement department will begin contacting businesses to remove illegal feather flag signs within the next two weeks.
The department will also immediately dispose of any snipe signs found on county rights-of-way.
The request stated that "citizen engagement plays a critical role in a successful code enforcement program," and toward that end an online complaint form is available on the county website to report possible violations.
For more information, contact Santa Rosa County Code Enforcement Director Chris Phillips via chrisp@santarosa.fl.gov or (850) 981-7100.