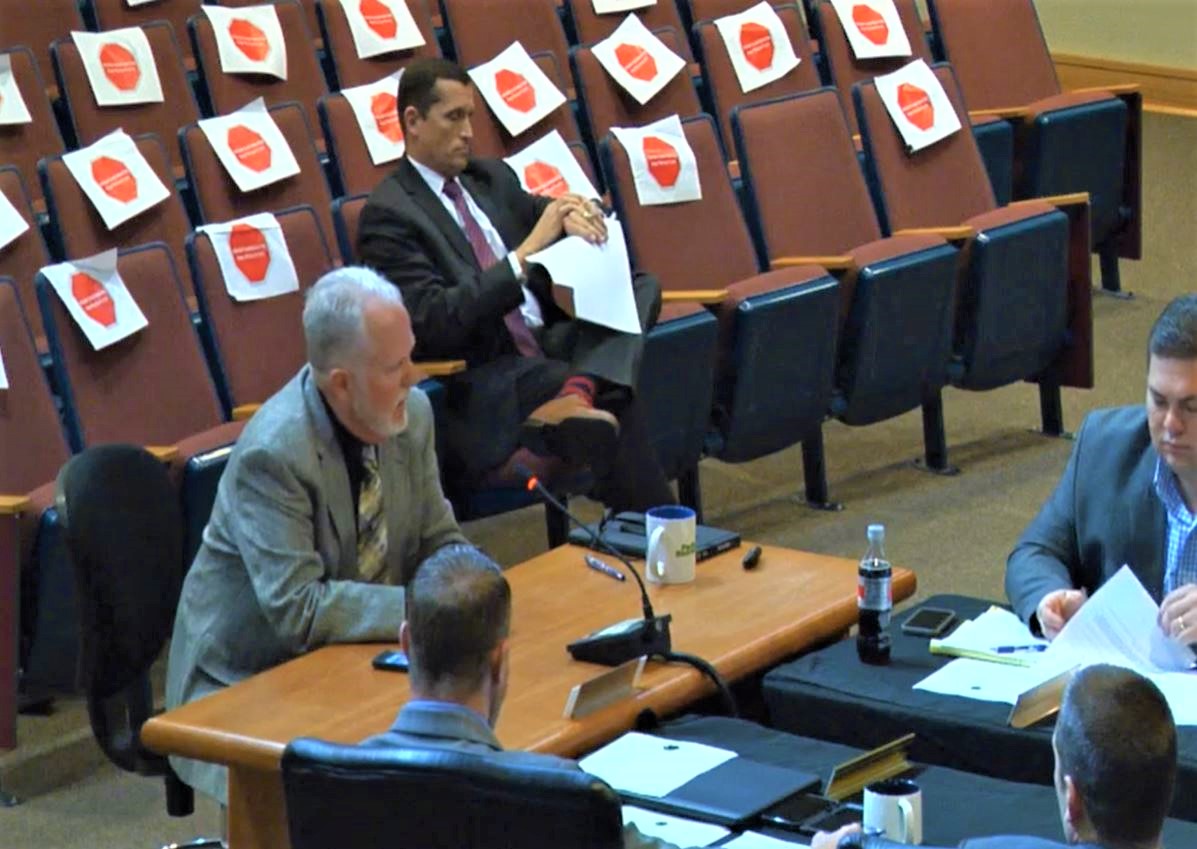 Jerry Couey of Milton, pictured during Tuesday's workshop, voicing opposition to the $150,000 study
Santa Rosa County Commissioners on January 21 approved funding a $150,000 study to enhance and complete its strategic plan, which commissioners are discussing during today's budget and planning workshop.
Matrix Design Group has been contracted to perform the study, which will include hosting a series of workshops to survey residents for input to include in the finalized strategic plan, which is expected to be completed by September.
Milton resident Jerry Couey spoke out at the beginning of the workshop, suggesting the $150,000 could have been better used to fund inmate work crews to clear out ditches which cause flooding. Couey said citizens have repeatedly told commissioners how their priority is infrastructure and that the board shouldn't have to pay to ask what citizens want.
"We know what the people want, and one of my concerns is we've changed management at the county administrator position, and I think we're losing sight," Couey said. "The people have told you, they begged you (for infrastructure)."
Dan Schebler, county administrator, said COVID-19 has impacted the county's ability to utilize inmate crews, which he said have been operating at around 30 percent.
Schebler said the county will focus on the following for its strategic planning:
Quality of Life;
Public Health & Safety;
Organizational Excellence;
Innovative Infrastructure;
Economic Vitality;
County department presentations were made during the workshop, covering where departments have been and where they are going.
"The county has fallen behind on maintenance," stated Amy Tuttle, director of Public Works, about storm water holding ponds. "We simply don't have a good handle on what we have." She said the ponds will be prioritized as her department works to become more proactive instead of reactive.
District 5 Commissioner Colten Wright, a small business owner, said the county needs to know related costs. "What does it cost the county annually to maintain its retention ponds," asked Wright, stating he doesn't blame one person for falling behind, stating he hopes the community will be patient as the county makes an effort to move forward. "Things kind of got away from us," he said. "We all want infrastructure to be improved."
"Citizens have been asking for infrastructure, infrastructure, infrastructure," District 3 Commissioner James Calkins said.
District 1 Commissioner Sam Parker said the county has to do a better job coordinating work with local municipalities and utilities and listening to county residents. Parker said the county has lost the trust of its citizenry as revealed by a high number of incumbents losing their re-election bids in 2020.
At the end of the workshop, District 3 Commissioner James Calkins said he opposes spending $150,000 on the study. "I think that the most important thing out of everything (discussed today) is listening our people," Calkins said. I think a lot of the reason why incumbents have lost re-election…a lot of that had to do with listening to the voters."
The board will have a March 25 budget workshop to start the budgeting process for fiscal year 2021-2022, which begins October 1.