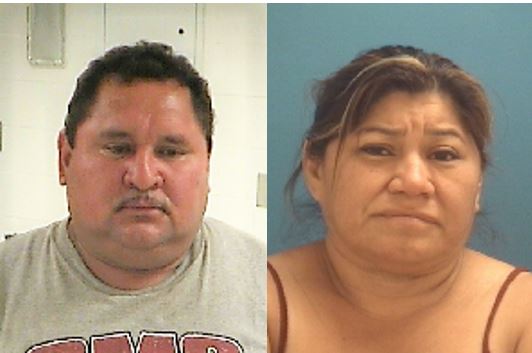 Miguel and Lucilma Santana, who bought a home in Holley in June, were arrested
A multi-year investigation led to the September 29 raid on a Holley couple's home and the out-of-state arrests of Miguel and Lucilma Santana, who were described by Indiana authorities as "major players" in dealing methamphetamine with ties to Mexican drug cartels.
Lucilma Santana, 50, was arrested September 29 in Columbus, Indiana, where she was residing, according to an October 2 joint press release issued by a Joint Narcotics Enforcement Team based in Indiana.
During the course of the investigation it was discovered that Miguel Santana was residing at a home the couple had purchased in Holley, and a search warrant was executed September 29 at 3286 Hwy. 87 S on the roughly 1.8-acre parcel the couple purchased for $90,000 in June of this year.
A source close to the seller of the property told South Santa Rosa News the couple used "large amounts" of cash to purchase the property.
During the 6 a.m. raid, which forced the closure of the northbound lane of Hwy. 87 S for a brief period of time, Santa Rosa County deputies along with law enforcement officers from Indiana, found four meth labs, marijuana, a small amount of meth and three guns.
Santa Rosa County Sheriff's Office Spokesman Sgt. Rich Aloy said October 4 that the agency was acting on information from Indiana agencies and executed the warrant from Indiana for Miguel Santana for dealing in and possession of methamphetamine.
Miguel Santana was not at the property in Holley and was later that day in Texas. Per the press release, around 2:30 p.m., an officer with the Houston Texas Police Department stopped Santana for a minor traffic violation and later confirmed multiple felony methamphetamine dealing warrants for his arrest. He was taken into custody without incident.
"Narcotics investigators advised that both Lucilma and Miguel were 'major players' in the local drug trade and were believed to be involved in two large profile drug busts made in 2016," stated the release.
Lucilma Santana remains in Bartholomew County Jail in Indiana. Miguel Santana remains incarcerated in Houston and is awaiting extradition back to Indiana.
The following law enforcement agencies assisted in the case: Seymour Police Department, Jennings County Sheriff's Office, Indiana State Police, DEA, Houston Texas Police Department, Santa Rosa County Sheriff's Office (Florida), Columbus Police Department, and Bartholomew County Sheriff's Office.
Additional charges are expected per the release.