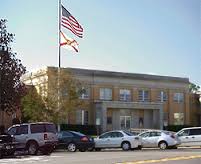 A third attempt to get voters to approve a tax to fund a new county courthouse has failed. However, the effort led by a political action committee to push for a half-penny sales tax for infrastructure improvements was successful.
By a 60-40 margin, voters in the Aug. 30 primary approved a half-percent local option sales sales tax for road improvements, first responder and law enforcement equipment and other infrastructure, such as bike paths and sidewalks.
The tax will be levied for five years starting Jan. 1, 2017, increasing Santa Rosa County's sales tax rate from 6.5 to 7.0 percent. Voters must approve any renewal of the tax.
"We are pleased with the primary results and would like to thank the 60 percent who voted yes and took a big step in Moving Santa Rosa Forward," said Tony Alexander, CEO of the newly formed Greater Navarre Chamber of Commerce and a volunteer marketing consultant for the PAC.
Alexander said it is important for the community to stay engaged in the process as the Board of County Commissioners appoints citizens from each district to serve on an advisory committee aimed to oversee spending of the related tax revenues.
The courthouse referendum failed by a margin of roughly two percent with 16,277 votes against the measure and 15,458 in support. Commissioners have been unsuccessful in garnering voter support to fund a new courthouse since 2000.
Navarre resident TJ Goulet was an outspoken critic of the 2016 courthouse referendum effort. "The issue was the price of the project and a lack of a plan," he said, pointing out the projected cost was $47 million.
Goulet believes commissioners should work to lower the cost. "They should look at what Okaloosa County did. They're replacing their courthoust for $26 million, and they're not raising taxes to do it but are using bonds," he said.
"Nobody pays off their house in five years. Why is county trying to pay off a building that will last 50 years in five years," Goulet stated, suggesting the board instead consider using long-term bonds.
Goulet also thinks the board should also revisit the proposed downtown Milton location. "If they keep trying to shoe horn it in there we're going to vote against it," he said.
EDITOR'S NOTE: An earlier online version of this story had transposed the results of the courthouse LOST vote. The publisher has self-imposed a rule that she will make no more early morning posts without first consuming coffee. :)