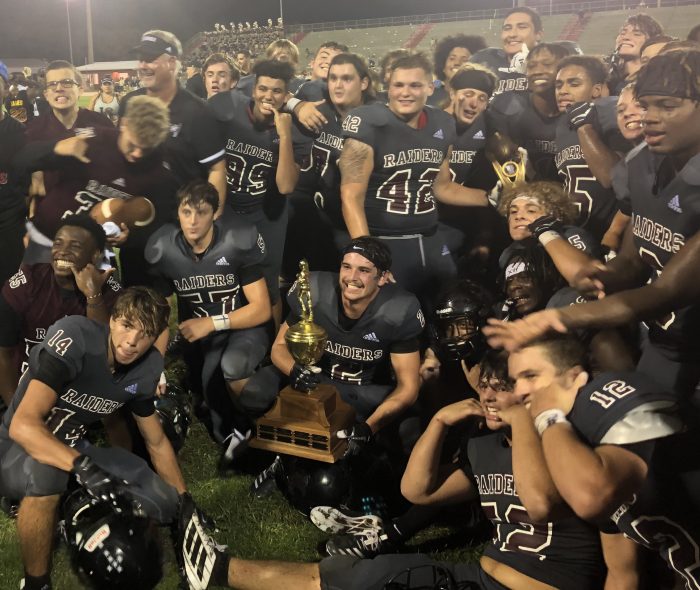 Tyler England (2) holding the Beach Bowl trophy (photo by Jay Phillips)
Navarre hosted Gulf Breeze on Friday night in this year's Beach Bowl, and the Raiders won the matchup 28-21.
Navarre (1-0) started the night by making plays on defense, such as when the Raiders forced a fumble and Trenton Hall recovered it for Navarre on Gulf Breeze's (0-1) first play, but the Raiders quickly turned their attention to offense.
"In the season opener, anything can happen," Navarre coach Jay Walls said. "Gulf Breeze certainly has a good football team."
Senior quarterback Marlon Courtney evaded a few would-be-sacks before delivering a pass to senior running back Jaydin Antonio for a touchdown.
Courtney made broken tackles and big plays a trend for Navarre throughout the game, going on to score three touchdowns in the first half and four touchdowns in the game.
"[Courtney] is doing a good job of extending plays when there's pressure and throwing some really good balls," Walls said.
Courtney's third touchdown of the first half came after he connected with Tyler England on a long pass that got Navarre to Gulf Breeze's two yard line, where Courtney would walk into the end zone on the next play.
Navarre came into the second half with the same mindset and moved the ball down the field methodically before Courtney found England in the end zone, but that would be Navarre's last touchdown of the night.
Navarre seemed to be putting the finishing touches on the game before a mishandled punt and an interception gave life to the Dolphins.
Gulf Breeze got the game within seven points with just over seven minutes left to play, but the Dolphins were stopped on fourth down three minutes later.
Gulf Breeze got another chance, but Hall intercepted the Dolphins' fourth down attempt and the Raiders killed the clock by taking a knee.
The Beach Bowl is usually one of the last games of the season, but this year it was moved up to both teams' first regular season game.
"This game being so big, and at the start of the season, you want to have success early," Walls said. "It builds confidence and gets everyone believing."
Navarre got that early season momentum-boost at a good time, because the Raiders have Pace and Milton at home and trips to Lincoln and Pine Forest scheduled for the next month.
Navarre will play Pace next week, after the Patriots played Navarre close for the majority of last season's game.
Pace will be coming off of a 29-13 loss at home against Choctaw.