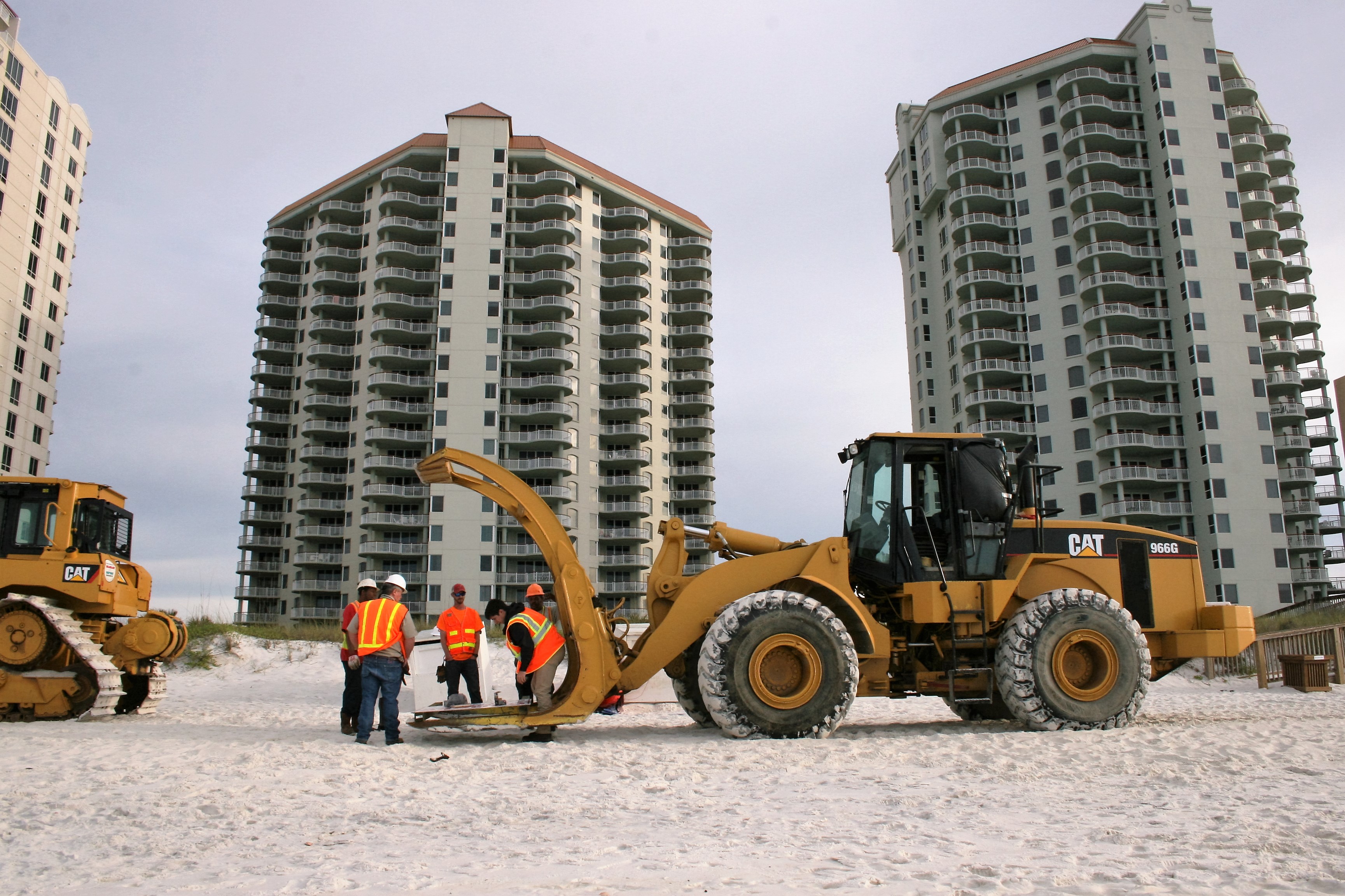 This morning large equipment was moved behind Beach Colony West Condominiums on Navarre Beach. It will be used to install a 2,200-foot submerged pipeline from an offshore borrow pit to the shoreline.
Weeks Marine, Inc. is performing the $17.4 million renourishment project for the Santa Rosa County Board of County Commissioners, and per a county project status report, crews will likely be working 24 hours a day, 7 days a week until the project is completed around mid-June, barring any unforeseen delays.
It's anticipated that pipe installation completed in time to start pumping sand around April 28.  It's projected the placement of roughly 1.6 million cubic yards of sand will take about 50 days.
Two hopper dredges will be positioned offshore to perform the hydraulic sand placement. One was spotted being moved into place by tug boats earlier this morning.
According to Santa Rosa County officials, the project will restore the dune crest to a width of 30 feet and increase the width of the beach berm by 100 to 200 feet.
Up to 1,000 feet of beach at a time around pipeline discharge areas will be marked, fenced and closed to the public. The project will start on the east end of Navarre Beach and work westward at a projected average rate of 500 feet per day.
Beachgoers can expect sand to appear "slightly gray" when first placed ashore, but county officials say the sand will lighten to near white after exposure to the sun. The project will also cause turbidity or cloudiness of the water and will be temporarily suspended or modified if permitted levels are exceeded.
Following completion of the Navarre Beach project, Weeks Marine is expected to use the equipment and dredges to perform beach renourishment at Pensacola Beach.