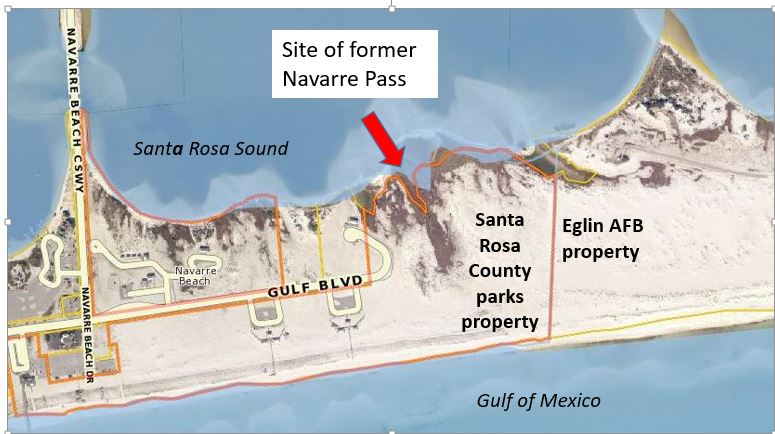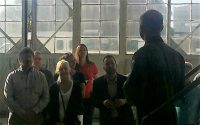 During a February 24 private guided tour of Eglin Air Force Base, Navarre Area Board of Realtors President Mark Miller and Executive Angela Campbell listen along with Greater Navarre Area Chamber of Commerce CEO Tony Alexander as Brigadier General Christopher Azzano discusses how reopening Navarre Pass could impact local military operations.
Before his impending move to Wright-Patterson Air Force Base, Brigadier General Christopher Azzano, commander of the 96th Test Wing at Eglin Air Force Base, took time last Friday to thank local business leaders and provide an update on base activities.
The one-star general and test pilot, who served in the Iraq War, has overseen roughly 10,000 military and civilian personnel since taking command at Eglin in September 2015.
In his new role, Azzano will oversee space and cyberspace operations at Air Force Materiel Command headquarters.
Although a change of command ceremony hasn't been scheduled, it's expected Azzano's successor at Eglin AFB will be named soon.
"In the short two years General Azzano has been at Eglin, he has been a been a great partner and friend to the communities surrounding Eglin," said Tony Hughes, chairman of the Greater Navarre Area Chamber's Military Affairs Council.
Hughes said the new position keep Azzano engaged with Eglin. "For that we are thankful, but we will still miss seeing him on a regular basis," Hughes said, adding, "He has been a great friend and supporter to our area's civic leaders. Personally, it has been an honor to get to know him, his wife Jenn, and their two children."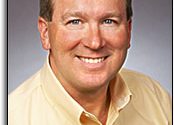 Tony Hughes, chairman of the Greater Navarre Area Chamber of Commerce's Military Affairs Council
During a February 24 private guided tour of the base, Azzano welcomed Hughes and other members of military affairs councils from Santa Rosa, Okaloosa and Walton Counties. "This is the first time ever we've had a combined MAC event that brought in MACs from all over the community," Azzano said.
Standing inside a 1950s era hanger, Azzano said that despite its older facilities, Eglin AFB will be "viable" for many years in great part because of its training school for the F35 fighter, which he described as the future of air superiority.
"We have people who are doing some very important work," Azzano said.
According to Azzano, the Department of Defense plans in April to conduct another edition of Operation Black Dart, a formerly classified counter-drone exercise which tests neutralization capabilities against Unmanned Aerial Systems, which the general described as a growing threat, describing a personal encounter with a quad-rotor camera drone at his residence.
Additionally, Azzano said a new Cyber Security group will bring roughly 400 new personnel to the base once it's stood up in September 2017.
Azzano said that overall the base provides a $2.5 billion impact on the local economy. "We have an incredible demand for local (products and services)," he said.
NAVARRE PASS
During the tour, Azzano also weighed in on the pros and cons of reopening Navarre Pass.
The comments came just one day after U.S. Congressman Matt Gaetz told Santa Rosa County Commissioners he supports reopening the previously navigable channel between the Gulf of Mexico and Santa Rosa Sound.
Located just west of the border of the county-owned Navarre Beach Marine Park and Eglin Air Force Base property, the pass was constructed in 1965 without protective jetties and closed up roughly two months after opening due to damage sustained during Hurricane Betsy. A 1968 county permit application to re-dredge the channel was denied by the state.
Although Azzano admitted that having another inlet to Santa Rosa Sound might prove helpful during incidents such as the 2015 Black Hawk crash, he said it could also poses difficulties due to "heavy use of local waterways for military training" by area installations, including Hurlburt Field.
"We fly over that (area) doing hazardous missions all the time," Azzano said, explaining that reopening the pass in such a heavily utilized area could impact training exercises, such as Marines storming the beach.
Azzano stressed the importance of having a protected area which provides both land and water training opportunities. "We work around Pensacola and Destin (passes) because of traffic," he said.