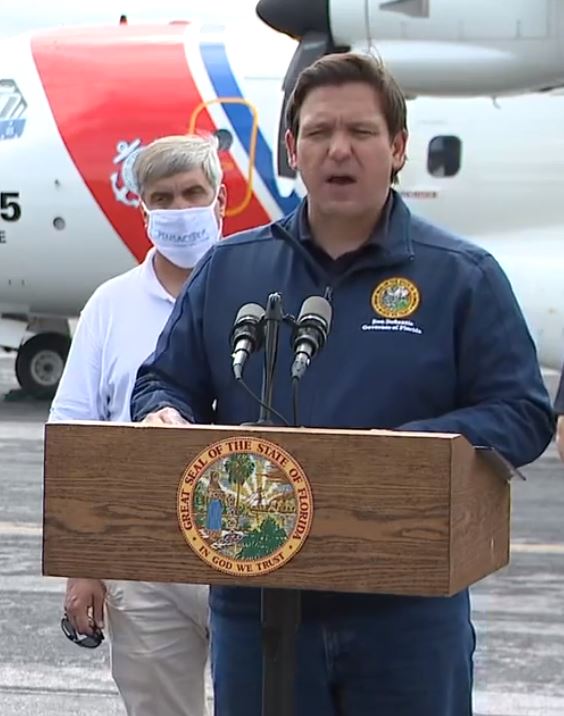 Florida Governor Ron DeSantis on Thursday flew over Northwest Florida to see firsthand the damage caused by Hurricane Sally. He said no deaths had been attributed to the storm and that power restoration and repairing Pensacola Bay Bridge are top priorities.
Senator Doug Broxson said contractor Skanska, which is constructing the new Pensacola Bay Bridge, made a "big mistake" by not properly ensuring barges would be secure during the storm. He said it is believed that 5 barges used during construction of the new Pensacola Bay Bridge were "out of control" and that some had heavy equipment on them when they slammed into the structure, causing damage which resulted in the bridge's closure.
Two other bridges, Garcon Point Bridge and the bridge at NAS Pensacola, were also struck by runaway barges. Both of those bridges are now operational.
"They should have moved the barges," Broxson said, noting he feels the contractor listened to weather forecasts, which initially predicted the storm would hit along the Louisiana/Mississippi border.
Broxson said the state plans to pursue an expedited, emergency repair of the bridge which could take 30-60 days to complete.
DeSantis went on to say the Florida Department of Emergency Management is bringing in extra fuel from Louisiana.
So far 972,000 water bottles and 179,000 meals have been provided to impacted areas.
Additionally, the state has made 100 rescues in addition to rescue efforts by local emergency agencies, including 20 rescues by the Florida Fish and Wildlife Conservation Commission.
DeSantis noted that some power restoration efforts are being hampered by flooding.
According to Gulf Power, the company has restored power to 32,930 customers in Santa Rosa County, although 41,270 still remain without power. In Escambia County, more than 100,000 customers remain without power.
DeSantis said the state is coordinating with utility companies, which are working 24/7 to restore power.