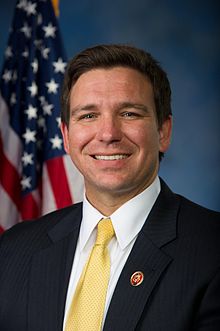 Florida Governor Ron DeSantis today during a press conference in Panama City took aim at corporate media, following a '60 Minutes' segment which accused him of "pay-to-play" favoritism with vaccination distribution in Palm Beach County, where elected officials have made bipartisan calls for an apology and correction from CBS News, which so far has done neither.
"Unless you're a partisan leftist, do not trust corporate media," said DeSantis. "They knew what they were doing was a lie…There's going to be consequences for that."
Democratic Palm Beach County Mayor Dave Kerner even weighed in on the story, which he says was "intentionally false."
"I offered to provide by insight into Palm Beach County's vaccination efforts, and 60 minutes declined," Kerner said via statement on official letterhead. "They know that the Governor came to Palm Beach County and met with me and the County Administrator and we asked to expand the state's partnership with Publix to Palm Beach County."
The '60 Minutes' segment under criticism aired Sunday, April 4.
That segment shows a confrontation of DeSantis, during a press conference in Orlando, in which '60 Minutes' Reporter Sharyn Alfonsi says, "Publix, as you know, donated $100,000 to your campaign, and then you rewarded them with the exclusive rights to distribute the vaccination in Palm Beach."
Although DeSantis interrupted Alfonsi at the time of her questioning, telling her she was wrong, his explanation and further comments were edited out of the '60 Minutes' segment that aired.
His explanation, which was given at the time but edited from the broadcast when it aired, follows:
"The first pharmacies that had it were CVS and Walgreens, and they had a long-term care mission. So they were going to the long-term care facilities. They got vaccine in the middle of December. They started going to the long-term care facilities the third week of December to do LTCs. So that was their mission. That was very important, and we trusted them to do that. As we got into January, we wanted to expand the distribution points, so, yes, you had the counties, you had some drive-thru sites, you had hospitals that were doing a lot, but we wanted to get it our into the communities more. So we reached out to other retail pharmacies, Publix, Walmart – obviously CVS and Walgreens had to finish that mission, and we said we're gonna use you as soon as you're done with that. For the Publix, they were the first one to raise their hand, saying they were ready to go."
Publix on Monday issued the following statement via Twitter:
"The irresponsible suggestion that there was a connection between campaign contributions made to Governor DeSantis and our willingness to join other pharmacies in support of the state's vaccine distribution efforts is absolutely false and offensive. We are proud of pharmacy associates for administering more than 1.5 million doses of vaccine to date and for joining other retailers in Alabama, Florida, Georgia, South Carolina, Tennessee and Virginia to do our part to help our communities emerge from the pandemic."
Jared Moskowitz, a Democrat who has been serving as Florida's Director of Emergency Management, also fired back via Twitter with the following statement:
"I said this before and I'll say it again. Publix was recommended by (the Florida Department of Emergency Management) and (the Florida Department of Health) as the other pharmacies were not ready to start. Period! Full Stop! No one from the Governors office suggested Publix. It's just absolute malarkey."
DeSantis on Tuesday said the matter isn't over. "I know corporate media thinks they can just run over people. You ain't running over this governor. I'm punching back."