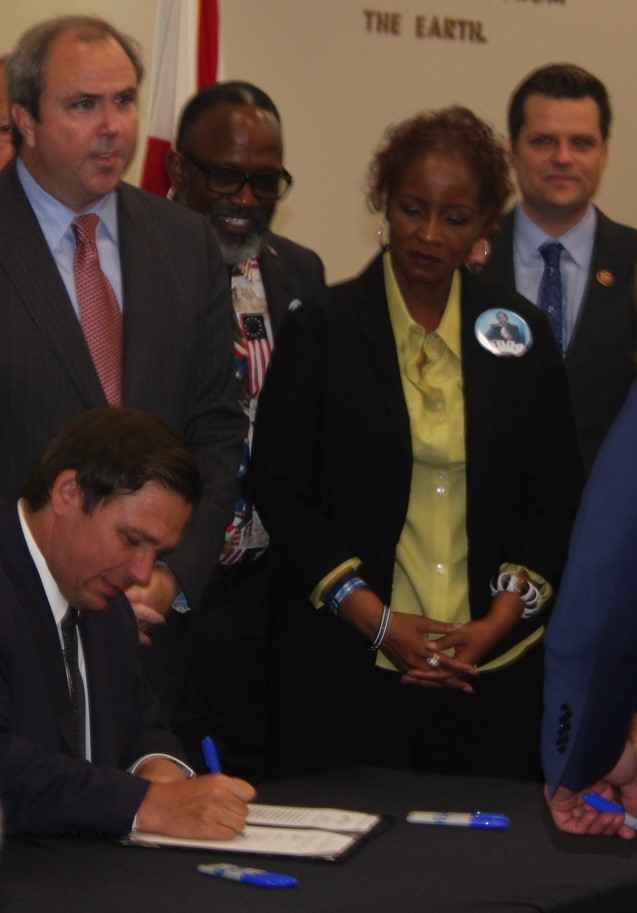 A standing-room-only crowd filled the Okaloosa County Commission chambers to witness Governor Ron DeSantis sign SB 168, the Federal Immigration Enforcement bill, into law.
The bill prohibits state and local governments from having sanctuary policies in effect and requires such entities to support and cooperate with federal immigration enforcement.
"Earlier this year, I made a promise that we would ban sanctuary cities in Florida and today we are delivering on that promise," said DeSantis. "I am proud to sign the bill presented to me by the Florida Legislature to uphold the rule of law and ensure that no city or county jurisdiction can get in the way of Florida's cooperation with our federal partners to enforce immigration law. This is about public safety, not about politics. We must do everything within our power, and use all the tools available to us, to ensure that our communities are safe."
Florida Senator Doug Broxson during this morning's Greater Navarre Area Chamber of Commerce breakfast, told attendees SB 168 was the "most misunderstood" bill passed during the recent legislative session. He pointed out that it's a public safety issue and those who properly become citizens are welcome. "If you can get here, you belong here," he said. "If they're committing crimes we don't want them here."
Broxson explained that it doesn't create new penalties or laws for illegal immigrants but rather enforces laws already on the books.
"We're gonna follow the law in Florida. We're gonna do what's right," Broxson said.
DeSantis was joined by U.S. Congressman Matt Gaetz, Florida Senator Doug Broxson, Florida House District 2 Representative Alex Andrade, Florida House District 3 Representative Jayer Williamson, Florida House District 4 Representative Mel Ponder and other legislators for the event.
Pictured below, immediately following the signing: Andrade, Williamson, Rep. Cory Byrd (co-sponsor of the legislation) and Ponder.