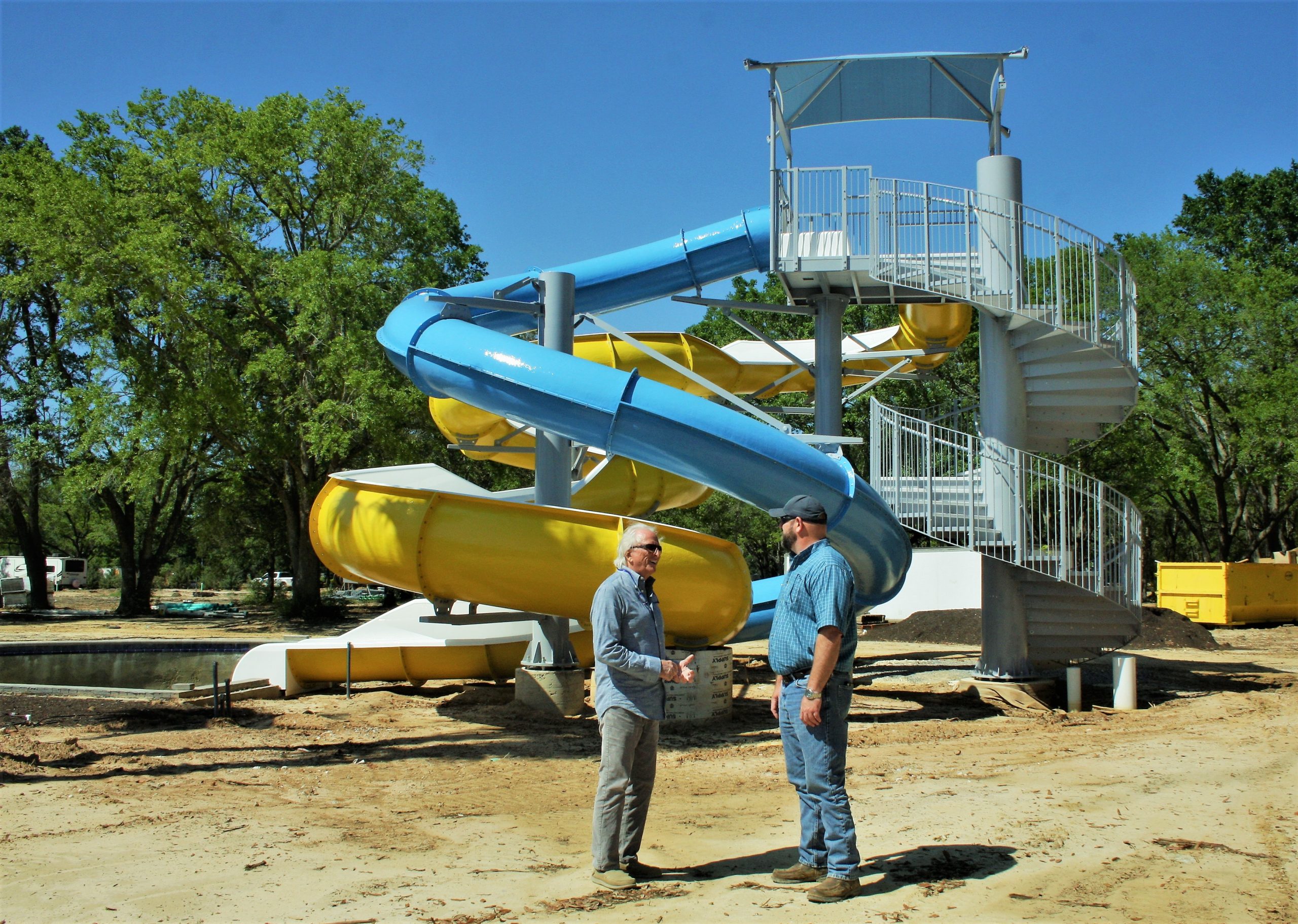 Developer Craig Kruse, left, pictured Wednesday with associate Matt Davis at Splash RV Resort & Waterpark's twin 28-foot water slides, which empty into a lazy river. Photo by Romi White.
It's hard to keep pace with Craig Kruse, the hot shot commercial and real estate developer who has been injecting millions of dollars into Santa Rosa County projects, including Splash RV Resort & Water Park, which will be opening this July at the intersection of Interstate 10 at Hwy. 87 S.
Over the past few years, Kruse, who also has developments in Okaloosa and Walton Counties, has been quietly buying up parcels all along the nearly 20-mile stretch of Hwy. 87 S, from Interstate 10 in East Milton down to the highway's southern terminus on Santa Rosa Sound in Navarre.
Kruse and two partners last August spent about $1.15 million for two adjacent parcels, totaling just under 2.5 acres, at the intersection of 87 S and East Bay Boulevard. He said that spot is eyed for a commercial development.
In December, he purchased 32 acres on his own at the intersection of Hickory Hammock Road for $830,200. He said he will likely hold onto that property for future development.
At the southern end of 87 S at U.S. 98, Kruse owns Santa Rosa RV Resort and recently agreed to sell a roughly 34-acre parcel adjacent to Publix in Navarre to Branch Properties, LLC, a major retail development company based in Atlanta, Georgia, which is also bringing a new Publix to Dogwood Drive in Milton.
A realtor working with the new development company said he could not confirm nor deny a rumor that a Chick-Fil-A might be in the works for the site. Kruse said he also couldn't confirm any news but did flash his megawatt smile and drop a hint that a new site plan was filed today with Santa Rosa County and that retail and restaurants are expected.
Kruse is also behind the development of property off Ortega Street next to Culver's in Navarre, which will soon see construction of an Aldi's grocery, Dunkin' Donuts, Firestone, T-Mobile, another popular chicken restaurant and a sit-down restaurant as well as a church on a 9-acre adjacent parcel.
SNEAK PEEK AT NEW RESORT
Kruse on Wednesday gave South Santa Rosa News a tour of Splash RV Resort & Waterpark's progress ahead of its opening this summer.
The resort is visible from Interstate 10 at the Hwy. 87 S exit, where the Florida Department of Transportation on Wednesday confirmed a traffic signal will be installed on the south side of the exchange by the end of the year.
With contagious excitement, Kruse showcased the family friendly resort's amenities, starting with the welcome center's lodge, which have 50 golf carts available for rent across from the future site of four pickleball courts and basketball court.
The resort's roads, campsites, three community bathhouses plus a laundry facility have been strategically sculpted into the natural setting of gorgeous, mature oak trees, which form a canopy overhead, providing both shade and scenery.
In addition to 350 RV sites, which each have concrete pads and picnic tables, there are 36 fully furnished, brand-new cottages, featuring lofts and queen-sized master beds, all nestled neatly amidst the tree lines.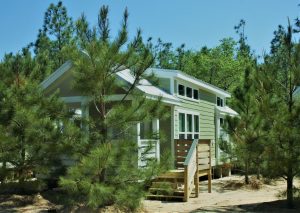 The waterpark, in the central area of the resort, features an amphitheater and twin spiraling waterslides cascading into a lazy river. There are two additional pools – one designated for adult relaxation and another which will feature lights and spray features. A splash pad and beer garden are also planned.
Surrounding a nearby shady lake will be 8 covered wagons available for "glamping" getaways with the comfort of heat and air.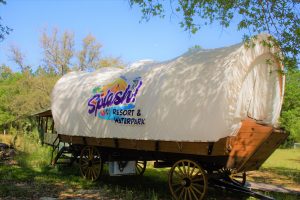 Reservations, starting in late July, are now being accepted, and the resort is hiring.
To make a reservation or for more information visit splashrvresort.com.