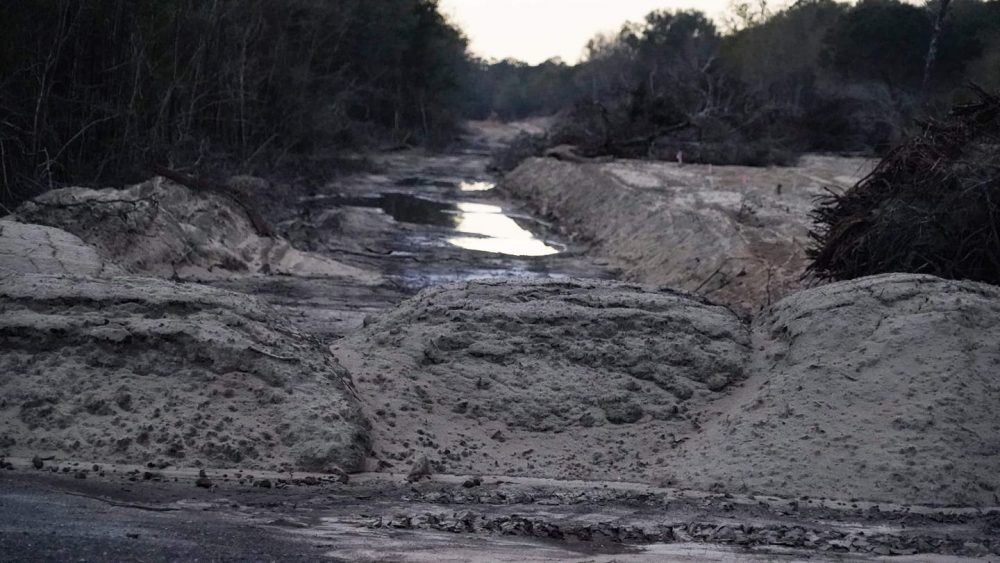 An East Milton resident is being sued for posting to Facebook this photo of land clearing off Bell Lane in Pace and comments about Ed Henry and Henry Company Homes (photo courtesy Wallis Mahute).
Plaintiffs Henry Company Homes, Inc. and Edwin Henry are suing East Milton resident Wallis Mahute for $30,000 over Facebook comments she made in December 2019.
The plaintiffs in court documents filed Janaury 17 with the First Judicial Circuit of Florida claim Mahute made defamatory statements against them.
"The Defendant engages in a pattern and practice of following the Plaintiffs to public forums in order to spread false information and conspiracy theories for the express purpose of interfering with and impacting the business of the Plaintiffs," stated Henry's attorney Robert Beasley in the aforementioned documents.
The lawsuit cites the following social media posts:
Mahute, in discussion with a complainant of Henry Company Homes, suggests getting flood insurance: "Kathy Hoover-Peters Need flood insurance fir (SIC) sure. If we had infrastructure and concurrency John Q Public would be safe but they are not." Mahute also asked Hoover-Peters to take and post photos.
Mahute posted a photo with the comment "More home building creating flooding already. We should feel sorry for those who will be suckered into purchasing these dwellings. This has been approved by your sitting county commissioners. Current residents have no choice but to be negatively impacted once the REAL flooding begins. Ed Henry, your local builder approved, signed and sealed…as always. No need for real infrastructure or concurrency."
Mahute stated: "More raping and clearcutting. This time on Bell Lane in Pace. Project by Ed Henry. Already flooding."
Henry on Monday provided a statement about the lawsuit to South Santa Rosa News: "Wallis Mahute slandered my family and business. I asked her to withdraw the comments. She refused. I will defend my father's name."
But Mahute says she's just exercising her First Amendment right to free speech.
"It is a sad day when someone making so much money from his activities in Santa Rosa County sues a senior citizen for $30,000 in an effort to silence me for making statements concerning his home building practices on Facebook as many others have done," Mahute told South Santa Rosa News on Tuesday.
In related news, despite the Santa Rosa County Zoning Board unanimously denying a request by Henry to perform land clearing at his development off Bell Lane in Pace, Santa Rosa County Commissioners on January 23, by a 4-1 vote, approved Henry's appeal. District 5 Commissioner Lane Lynchard was the sole opposition to the action.
EDITOR'S NOTE: We advised Mr. Henry that slander is spoken and libel is written. His response was "Use my first statement or don't use any."