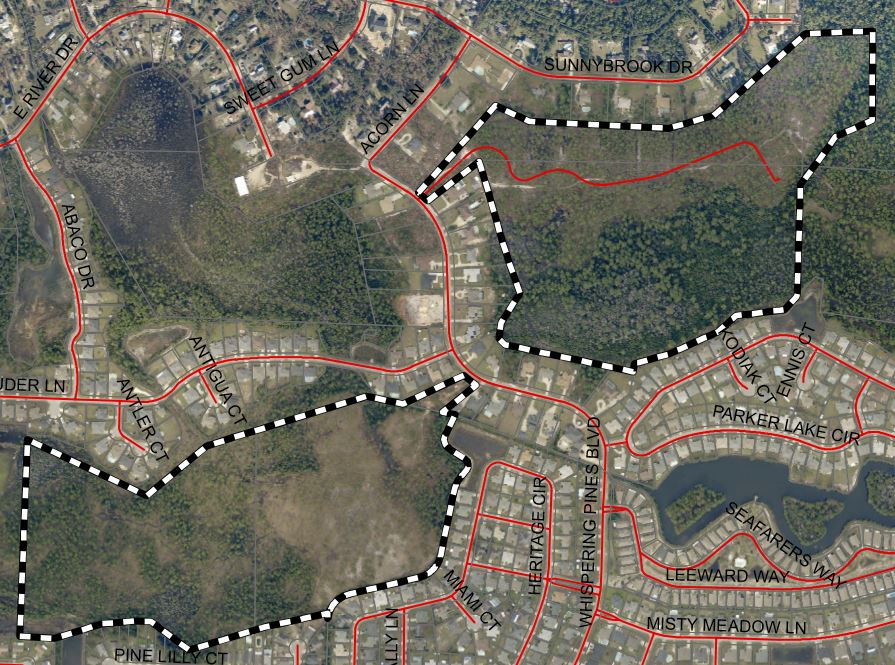 Proposed new construction of a 164-unit apartment complex off Whispering Pines Boulevard in Navarre has been scuttled by developers who still plan to move forward with new housing on two parcels totaling 108 acres.
"We are going to ask the board to table the apartment site till March so we can submit a different plan. It will not be apartments," Developer Bobby Killingsworth told South Santa Rosa News on Wednesday.
The Santa Rosa County Zoning Board on November 9 had rejected plans for Sanctuary Apartments, a seven-building complex on a nearly 54-acre site, located on the west side of Whispering Pines Boulevard just south of Pouder Lane.
At that same meeting the zoning board approved the nearby development of Creet's Landing, a 48-lot residential housing subdivision on a separate roughly 54-acre parcel, located on the east side of Whispering Pines Boulevard accessible north of Pouder Lane.
"We are pressing on with the subdivision to continue to provide housing for our new and existing Navarre residents," Killingsworth said.
Santa Rosa County on Wednesday posted the agenda for the County Commission's December 14 rezoning meeting, when the Creet's Landing project be presented to commissioners, who have decision-making authority over zoning board recommendations.
Although Sanctuary Apartments and Creet's Landing housing subdivision both remain listed on the commission's rezoning meeting agenda, the apartment project will be pulled and replaced at the later date.
The December 14 rezoning meeting agenda's supporting documentation reveals the county does not maintain traffic concurrency calculations for Whispering Pines Boulevard but receives "a lot of complaints about the back up of traffic at the signal at Hwy. 98," per Santa Rosa County Public Works Director Stephen Furman.
Another concern voiced by some residents via letters and at the November zoning meeting was the potential burden of an increased student population at local schools.
However, in an October 13 letter to the county, Santa Rosa County District Schools Assistant Superintendent Joey Harrell stated the district could "reasonably accommodate students generated by both proposed developments during the next ten years" due to planned capacity increases.
The December 14 rezoning meeting will take place at 6 p.m. at the County Administrative Complex, located at 6495 Caroline Street in Milton.