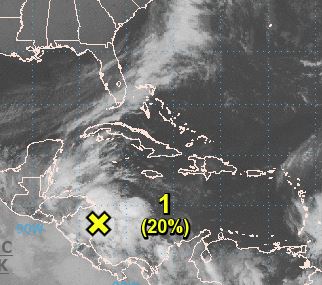 The National Hurricane Center's 7 a.m. CDT indicates a broad area of low pressure located over the western Caribbean Sea has a 20 percent chance of development in the next 48 hours and a 40 percent chance thereafter.
The system's close proximity to land is likely to limit development of this system for the next day or so. However, environmental conditions are expected to be conducive for the system to become more organized later this week as it moves slowly northward over the northwestern Caribbean Sea, stated the update.
Forecasters say a strong upper-level winds associated with an approaching cold front will likely prevent further development by Sunday and that regardless of development, locally heavy rains are likely over portions of Central America and Cuba during the next several days.
"Whatever initially comes out of this large Central American gyre will get pulled northward over the weekend," stated Meteorologist Jim Cantore on Monday.