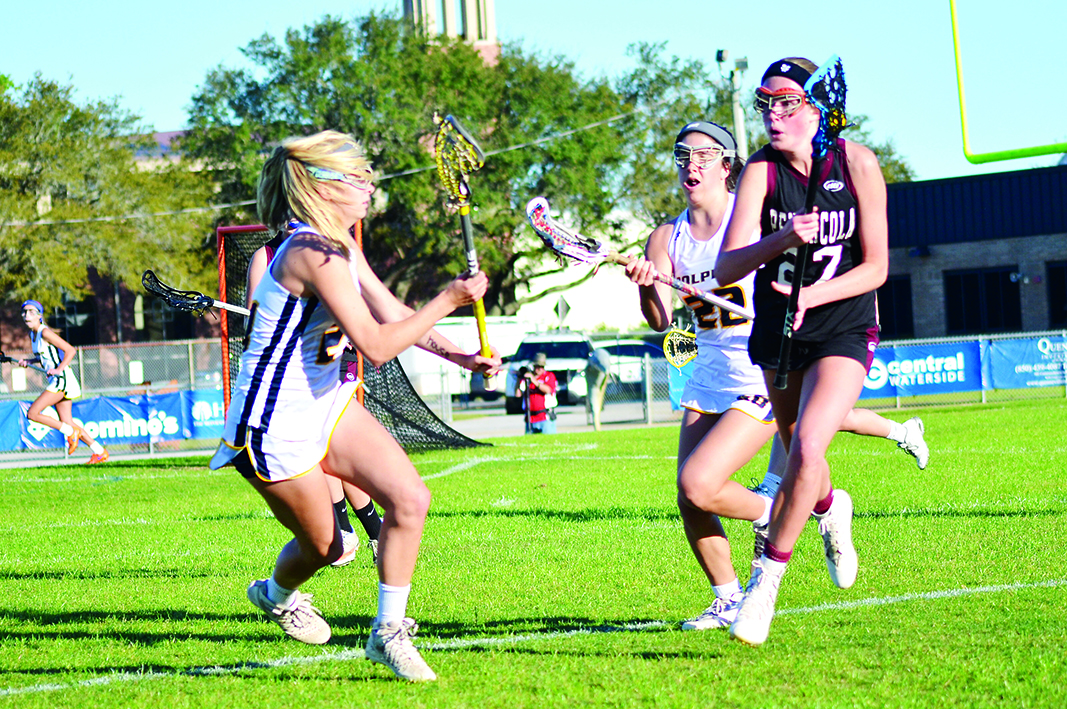 The Gulf Breeze High School girls lacrosse team had a strong showing last Thursday, defeating Pensacola High School 19-1 in order to claim the District 1 Championship for the second year in a row.
"Tonight we were focusing a lot on preparing for next week in regionals against whoever we are gonna play, and we know we are going to have to be really aggressive in that game," Avery Currington said. "So tonight was really about giving it our all, seeing each other on the field, and working together like we will have to when we are playing against a better team."
The Lady Dolphins came into the match in first seed and had the advantage of history on their side, posting an overall record of 13-0 against the Lady Tigers since 2013. Although the favorites to win, Gulf Breeze was facing a whittled down Pensacola team — who was missing five of their senior starters for the match, including their goalkeeper.
The girls had previously committed to the HOSA Leadership Conference and were unable to make it to the district final, which had been rescheduled due to the weather. The shortage of starters caused an additional lack of man-power for Pensacola, who played without any substitutes.
Gulf Breeze started off on the attack early on and never reduced the pressure on Pensacola's back-line, peppering the PHS goal with 14 shots in the first half, 12 of which were on target. Kate Reagan Costello and Avery Currington both gathered hat tricks within the final five minutes of the first half to put their team up 9-1 – setting up a second that saw Currington pick up right where she left off.
Costello gained possession for Gulf Breeze straight off the opening draw of the second half and took the ball towards the box, lobbing a pass into the crease to find Currington for her fifth goal of the night. The Lady Dolphins did well to keep possession during the match and when Pensacola happened to wrestle the ball away, were just as good retrieving it — winning possession of 38 ground balls during the game.
The win keeps the District 1 title at Gulf Breeze for another year and hints at the formation of a possible dynasty for the Gulf Breeze girls lacrosse program.